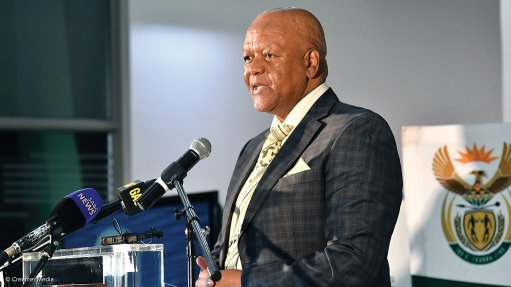 Energy Minister Jeff Radebe
Solar energy company Sola has commended Energy Minister Jeff Radebe's signing of 27 outstanding power purchase agreements with renewable energy independent power producers (IPPs).
These agreements from part of the South African government's Renewable Energy Independent Power Producer Procurement Programme (REIPPPP), which has been on hold since 2015.
"The signing signifies government's commitment to economic growth and prosperity in South Africa. The signing has been a long time coming and is a monumental moment for the renewable energy industry in South Africa," said Sola chairperson Dr Chris Haw.
Sola subsidiary Aurora Power Solutions was selected as a preferred bidder for 170 MW of solar photovoltaic capacity under the REIPPPP.
Haw said the low cost and low carbon advantages of renewables have now been recognised by government as critical to South Africa's future.
"Their adoption will reduce the cost of electricity for households and businesses in the long run and create at least 61 000 jobs over the next few years."
Renewable energy sources have a cheaper levelised cost of energy than coal and nuclear and their adoption shows the country's commitment to international economic trends, he added.
Haw explained that the signing also shows the government's potential interest to move ahead with small-scale IPP projects.
"The small IPP projects have huge potential to encourage economic growth. They have a sharp focus on broad-based black economic empowerment, local procurement and local operation, which means that the economic spinoffs for local economies will be more pronounced per megawatt procured," Haw pointed out.
The small-scale IPP projects were excluded from the group of projects for which agreements were signed on Wednesday, even though they have the same procurement status.
The hope is that these will be signed in the near future.