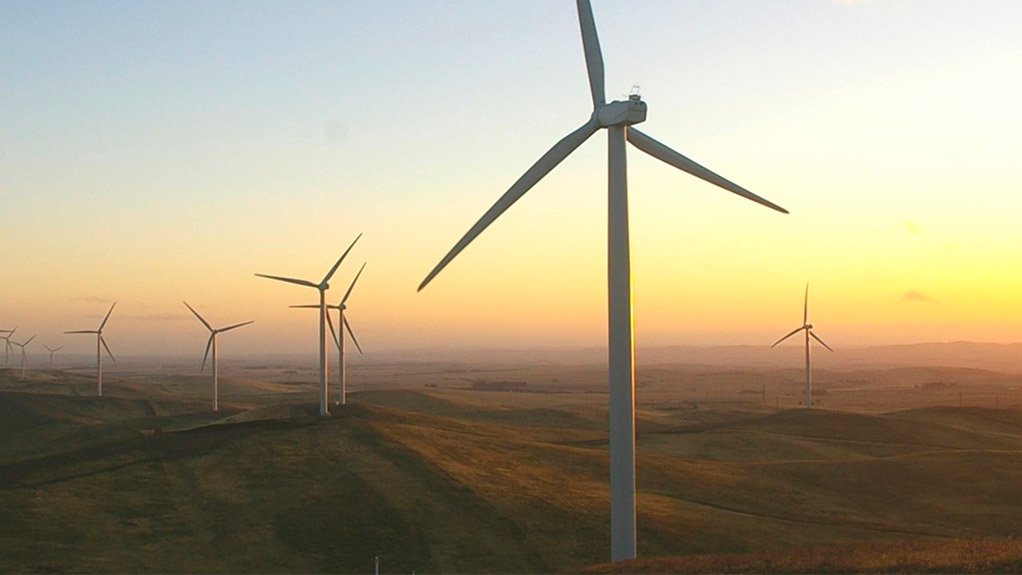 MORE RENEWABLES ON THE GRID South Africa and many other African countries are fortunate to have abundant wind resources
Although the Department of Energy (DoE) has initiated the highly successful Renewable Energy Independent Power Producer Procurement Programme (REIPPPP) in South Africa, which has led to the rapid expansion of renewable energy, both wind and solar, integrated professional and technical services firm AECOM asserts that investment in local manufacturing capability in the wind and solar industries will not take off unless clear direction is given regarding the future of renewable energy.
AECOM renewable energy market sector leader Werner Schneeberger points out that the main challenge in the local industry is policy uncertainty. Delays in the REIPPPP and uncertainty on State-owned power utility Eskom's position as power purchaser, have made investors nervous.
Schneeberger notes that the DoE should continue with the firm leadership it has shown in the past, and accelerate and expand the REIPPPP in order to mitigate such challenges.
He adds that the revised Integrated Resource Plan (IRP) should be published, the preferred bidders for the REIPPPP expedited bid window announced, and the request for proposals for the next bid window issued.
Schneeberger mentions that the wind industry in South Africa is only five years old, but with more and more wind farms connecting to the grid, wind energy plays a growing and increasingly important part in the energy mix.
He puts forward that South Africa and many other African countries are fortunate to have abundant wind resources.
"Coupled with stable governments and strong local investment, the price of wind energy will be driven down. As an example, the price of wind energy halved from R1.38/kWh to 68c/kWh in the latest round of the REIPPPP (April 2014 terms). This makes it the cheapest form of new generation around," Schneeberger says.
In addition, he adds that wind energy is a cheap and fairly consistent form of renewable energy, especially if wind farms are distributed over a large area. He notes that, in South Africa, the wind tends to pick up in the afternoon and early evening, helping to meet the evening peak demand.
"The Council for Scientific and Industrial Research estimates that wind energy produced net savings of R1.8-billion during the first half of 2015 in South Africa. Wind energy was also cash positive for Eskom by R300-million," Schneeberger says, explaining further that these savings were achieved from the bid window one wind farms, which had tariffs double the current rates. The prices are still going down and more wind farms on the grid will save the consumer more.
He explains that the industry is seeing larger turbines on higher towers. He adds that the responsiveness of wind turbines to light winds has improved, leading again to cheaper electricity.
He adds, moreover, that, currently, the biggest research spending is not in improving wind or solar technology, but in demand management, intelligent grids and storage. "This will allow a much greater penetration of renewables and will render 'baseload' generation obsolete. Pumped storage projects such as Eskom's Ingula are also hugely beneficial to getting more renewables on the grid, leading to cleaner generation."
Schneeberger comments that direct investment in wind farms is still an attractive proposition, emphasising that more investment will also be seen in local manufacturing if there is policy certainty.
AECOM's involvement in wind farms ranges from large to small, currently, including the 240 MW Longyuan Mulilo De Aar wind farm in the Northern Cape, the 33 MW Excelsior wind farm in the Eastern Cape and the 5 MW Klawer wind farm in the Western Cape.
Schneeberger adds that the company also provides support as needed to wind farms already in operation, such as Kouga wind farm in the Eastern Cape.
He explains that the company's projects from bid windows one and two have been completed and connected, with the projects from bid windows three, four and the small projects bid window currently in design or construction, and due for connection in 2017 and 2018.
Schneeberger indicates that AECOM provides engineering, procurement and construction management services on these projects. The engineering scope spans all disciplines, including environmental, geotechnical, transportation, civil, structural and electrical.
Moreover, he asserts that the company has completed projects in thermal power generation, renewable power, hydropower, transmission and distribution, potable water treatment plants, wastewater treatment plants and desalination plants.
He further cites that AECOM was appointed by French multinational rail transport company Alstom for the civil design and construction supervision of the turbine generator island at both Eskom's Medupi and Kusile power stations. Japanese multinational conglomerate Hitachi was tasked with the civil design and construction supervision of the boiler island, while advanced technologies supplier Tenova was appointed for the materials handling component at Kusile.
"We are proud to have contributed towards these much-needed installations, notwithstanding the challenges that these projects have faced," comments former AECOM business line leader Nico Kruger.
He explains that AECOM provides a full spectrum of services, from prefeasibility studies through to environmental-impact assessments, geotechnical investigations, conceptual and detail design, cost management and construction and project management services.
"AECOM is an established authority on hydropower plants, and has completed a number of projects across Africa, including having an established relationship with the Grand Inga project. We are also excited about our involvement in a thermal gas-fired power plant in Nigeria, where we expect a lot of new development," Kruger concludes.