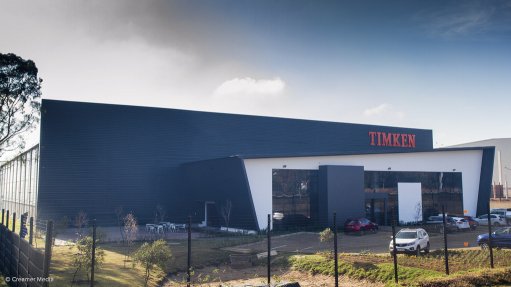 NEW COMPONENTS The company has added bearings from Schaeffler and Timken to its available selection
Last month, international components distributor RS Components, which is the trading brand for electronics components distributor Electrocomponents, announced that a significant expansion to its portfolio of available power transmission application had been completed.
The company has added components from bearings manufacturer Schaeffler and bearings and mechanical power transmission solutions provider Timken. The company explains that Schaeffler and Timken are among the largest manufacturers of bearings and other components for deployment in power transmission systems.
The products now available from RS Components include ball bearings, roller bearings, sprockets, belts, pulleys, and many other parts necessary to build up or maintain different kinds of motion-control applications. RS Components explains that the components target use across a range of motion-control systems in industrial applications, including automotive, production lines and conveyor systems.
"Delivering greater choice to customers, the RS Components portfolio now includes more than 400 products from Schaeffler, largely roller bearings and ball bearings, which are available within Schaeffler's INA and FAG branded ranges," the company highlights.
RS Components has also added more than 200 products from Timken, which are largely tapered roller bearings that offer race widths from 7.93 mm up to 42.86 mm. The Schaeffler and Timken ranges for power transmission applications are now shipping from RS Components in the Europe, the Middle East, Africa and Asia-Pacific regions.
Move to Heart of Innovation
Last month, Electrocomponents moved its global headquarters from Corby, in the UK, to the heart of digital innovation, London, in the UK. This is in line with the company's strategy to ensure the continued growth and success of the business.
Electrocomponents CEO Lindsley Ruth explains that the new premises located at Two, Pancras Square, consolidate the company's headquarters and existing London-based digital operations into a single head office and digital hub.
He points out that the new head office enables Electrocomponents to further extend its leadership in digital technology. Pancras Square is part of a new thriving development at the gateway to King's Cross and houses technology company Google, video sharing company YouTube, and music company Universal Music UK.
Ruth
says the location and improved facilities will enable the company to attract and retain key talent to continue to transform its performance. The location also offers excellent transport links for international colleagues and visitors, and for staff based at the company's RS Components UK site in Corby.
"With big ambitions for growth, it's vital that we develop the right culture and reputation to become first choice for our customers, suppliers and employees. Using the strong momentum we've gained, we are driving more innovation into the business to address our changing market. Our new London office will help us to ensure that we are synonymous with innovation and creativity," he adds.
Ruth
says the company has operations in 32 countries, offers more than 500 000 products through the Internet, catalogues and at trade counters to over one-million customers, and ships more than 44 000 parcels a day.
"Our products, sourced from 2 500 leading suppliers, include electronic components, electrical, automation and control, and test and measurement equipment, and engineering tools and consumables," he states.
Ruth concludes that RS Components and Allied Electronics are the trading brands of Electrocomponents. The group is listed on the LSE and in the last financial year ending March 31, 2016, had revenues of £1.29-billion.