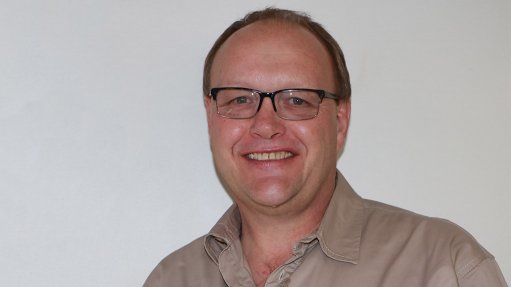 Martin Preece, executive VP and head of the South Africa region for Gold Fields.
Photo by: Creamer Media
JOHANNESBURG (miningweekly.com) – Way ahead of any indication of national lockdown, South Deep gold mine started an intensive and focused communication awareness campaign to shield its people from the coronavirus pandemic.
It placed a lot of reliance on leadership across the board, going down to basic family leadership, and put effective communication platforms in place that have stood it in great stead.
"The strapline on our communications is about taking care of yourself and taking care of those you love and care about. The gold reserves will be in the ground after the pandemic. We need to make sure that we get all our people through this, with their families and their loved ones. Then we can rebuild after the pandemic," says Martin Preece, executive VP and head of the South Africa region for Gold Fields. (Also watch attached Creamer Media video.)
"We've focused on leadership, a lot of communication awareness, a big drive on non-pharmaceutical interventions, pushing hygiene practices, social distancing, right from the beginning, and all learning new habits and new behaviours," adds Preece, who regards one of the most important aspects as South Deep's "meaningful and collaborate approach with our colleagues from organised labour, who have stood side-by-side with us, helped us to develop protocols, and helped us drive the change of behaviour with our people".
South Deep set great store on identifying those with comorbidities, using existing databases on personnel with potential comorbidities and through on-mine screening and occupational medicals, classifying them into low-risk, medium-risk and high-risk comorbidity categories.
Those in the high-risk category, currently totalling 115 people, have been placed on precautionary sick leave. Work-from-home arrangements and opportunities to change to lower-risk working environments were looked at for those in the medium-risk and low-risk categories.
In addition, South Deep will probably not be recalling a further 169 people because they are also a serious comorbidity risk.
"The idea is to put people on precautionary leave who have comorbidities and change their working arrangements to enable us not to expose them to unnecessary risk," says Preece.
FOUR CATEGORIES OF TESTING
A risk-based approach has been taken to four categories of testing:
employees that are at risk are typically those working in South Deep's medical centre, security and paramedics, because they end up having more contact with people;
people in the return-to-work category that are coming back from far-reaching areas and people that have not yet been at work;
risk-based sampling on an ongoing targeted basis of 80 tests a day; and
the last part of the testing is of people under investigation.
To date, 45% of the workforce have been tested, totalling 1 768 tests. These tests have returned 1.1% positive, involving 21 active cases currently and one recovery.
Those tests that have come back positive include four people in the working-at-risk category, five in the return-to-work category, four in the risk-based sampling category and eight in the persons-under-investigation category.
"Pleasingly, the people in the persons-under-investigation category are people that have highlighted to us that they've been exposed outside the workplace. They informed us that they had potential exposure and we've been able to test them without them returning into the workplace. So, there's a good discipline with our people in terms of self-reporting and letting us know that they've been exposed, and not coming back into their workplace and putting their colleagues at risk," Preece tells Mining Weekly.
SELF-DECLARATION TOOL
South Deep has collaborated with startup company A2D24, which has developed two WhatsApp apps for the mine, one of which is being used to connect with employees directly and not relying on briefs floating around in the workplace.
The second is the development by A2D24 of a self-declaration tool, which gives people the opportunity to self-declare before coming to work through the answering of a series of questions relating to own health, the exposures of their families and whether they or members of their families or contacts had attended large gatherings, funerals or been in situations that may heighten their vulnerability to Covid-19.
If they have answered in the affirmative to any of the questions, when they come into work, they are directed to the medical station and will not be cleared for entry into the mine prior to evaluation by South Deep's doctor. Those that are clear come to the mine, have their temperatures put into the WhatsApp tool and they then get an entry permit to come into the mine. This allows the mine to track people and for them to receive medical attention prior to potentially exposing others to risk.
ROLE OF COMMUNICATION IN CURBING THE VIRUS
"Communication, in my view, has been the game-changer. Right from the outset, we've had really intensive communication. We're using a host of platforms. Facebook is a very powerful tool. Not only does that reach our employees but it also allows us to reach into our communities.
"Our approach has been to look at the day in the life of our employees, who are parents and family members, so we want to touch their home environment, we want to touch their community environment, we want to touch the public amenities, including transport used and then, obviously, we want to touch the work environment," Preece says.
"So, we're driving communication on Facebook, we're driving individual one-on-one communication through our WhatsApp platform so that we can brief people and communicate with people. Our communication has been intensive and consistent and its adapting as we're going along.
"We do have concerns that with the relaxation of the lockdown levels, there's a risk of people letting their guard down, so we're doing a lot of work at the moment on maintaining social behaviours, hygiene practices and having the discipline to push through for the next couple of months that we must not relax our guard as the lockdown levels are relaxed.
EIGHTY-FIVE PERCENT OF PEOPLE BACK AT WORK
South Deep has 85% of its employees back at work.
About 100 people are still outside of South Africa, in Southern African Development Community countries, waiting to return to work and another 300 people on sick leave and then the last of the cross-province people that have still to return.
On the steps being taken to prepare for a second wave of the virus, Preece says: "We've got to work with our colleagues. We've got to maintain this steadfast and visible leadership.
"Our executive, with our union leadership, is out in the mustering rooms a couple of mornings a week, engaging with people, checking that they've got the personal protection equipment, keeping safe social distance and keeping communications consistent.
"We've got to touch the hearts and minds of our people about this being in their control, they've got to take this behaviour home. Studies are indicating that a lot of infections are taking place outside of the workplace. We do believe that's where the risk is.
"It's great that we have great practices at work. We need great practices in transport to work, great practices in our communities where our people are shopping and we need to maintain that discipline at home," he adds.