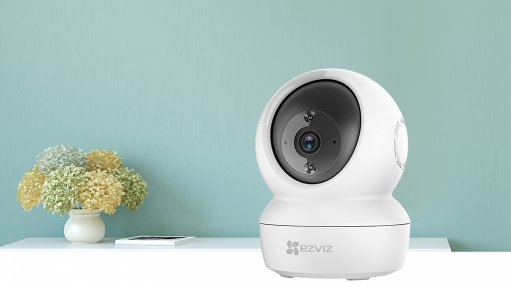 The C6N camera from smart home security company EZVIZ
Emerging technologies such as intelligent devices, cloud-based platforms and artificial intelligence (AI) technology are increasingly being applied to create smarter and safer homes, making it easier and more convenient for users to access the full potential of high-tech intelligent devices.
Smart home security company EZVIZ provides a range of products aimed at optimising safety and security in smart homes. Its C6N camera uses a smart infrared (IR) function that features advanced IR lighting to capture more details in low light. With the motion pan-tilted rotational feature, it is able to cover 360o, designed to make it easier for the user to have a full view of the monitored space. The C1C-B camera allows for a 108o wide-angle view that covers a specific area being monitored or recorded.
Both cameras are designed to be user-friendly and easy to install. The C1C-B is compact in design and features a magnetic base and mounting kit, for easy installation inside a home. It could be attached to any magnetic surface or onto a wall or ceiling.
The most notable feature of the C6N is said to be the smart night mode. Equipped with smart IR and able to work with low light, the intensity of the IR light-emitting diodes (LEDs) automatically adjusts to prevent overexposure in night vision mode, enabling detection at any given point in low light or at night.
The C1C-B is said to deliver clear and vivid imaging regardless of how much the lighting changes. It features advanced built-in IR LEDs to ensure a 12 m full high-definition (HD) night vision range, allowing for the capture of low-light images and video without light pollution.
Motion tracking is another feature of the C6N and C1C-B. When a moving object is detected, the user receives an alert with an image in real-time – particularly useful for monitoring children and pets at home. The C1C-B allows for three different sound alarms when moving people or objects are detected: siren, sound, and silent. Users can view images on the EZVIZ application.
Users are can also enable two-way communication, allowing selected persons to communicate by means of a mobile. In addition, sleep mode can be enabled on both the devices, allowing users to pause real-time recording and notifications.
The cameras provide various recording options, such as continuous recording or scheduled recording. The devices can connect to Wi-Fi and boast a large amount of storage space, allowing recordings and images to be saved.
Both cameras have MicroSD slots with a maximum space of 256 GB for recordings and images can be saved on the EZVIZ Cloudplay, for additional backup on the cloud. The data of the recordings and images are kept private by the use of end-to-end encryption.