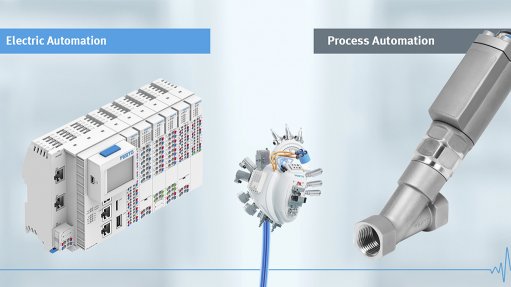 Festo Automation System's CPX-E and Angle Seat Valve VZXA
The combined benefits of process and electric automation offer a complete automation solution, with process automation solutions helping customers to control and transfer media from point A to B, while electric automation solutions offer seamless functioning from components to the cloud.
"When customers are faced with cost reductions, looking at individual component costs is not enough. Machine builders and end-users need to look at the overall benefits achieved by automation providers," says Festo Electric Automation head Marcus Gericke. "These providers need to cover the complete spectrum of automation equipment and maintain the flexibility to integrate into almost every higher-level controller." Seamless connectivity aims to make different and complex interfaces simple and easy to handle and Festo solutions are designed to be more reliable and to reduce the time required for implementation.
The company's automation system CPX-E is a high-performance motion control and programmable logic controller (PLC) automation system that comprises individual function modules that allow a flexible system structure. Depending on the combination, the automation system CPX-E can be configured and used purely as a remote I/O system or as a complete control system. In addition to comprehensive PLC functions right up to multiple axis applications with interpolation, the CPX-E can be easily integrated into existing host systems, by using the EtherCAT master interface, the integrated PROFINET or EtherNet/IP slave interface. The Open Platform Communications Unified Architecture (OPC UA) client and server functions ensure easy integration and interoperability in Industry 4.0 host environments with cloud and digitalisation concepts.
"At Festo, we offer our customers holistic solutions that are imperative within the process industry," says Process Automation head Russell Schwulst. "Whether you need a simple process valve or a complete solution comprising of process valves, linear & rotary actuators, pinch valves, remote I/O, and PLC - we can deliver." The company offers a range of products that control and ensure that media travels effortlessly to all parts of the machine, offering specific solutions for customers' process requirements.
The company's Angle Seat Valve VZXA modular product concept is designed to make it easier to modify and maintain systems without removing the entire valve. Different actuators and valve bodies can be combined for easy integration into the application. Individual, function-tested modules simplify replacement in the case of expansion or maintenance. The interface between the actuator and the valve body means that the actuator can be replaced without opening the piping. In addition, the patented seal system prevents the operating medium from leaking out. This aims to help customers achieve maximised productivity and enhanced competitiveness in the industry.