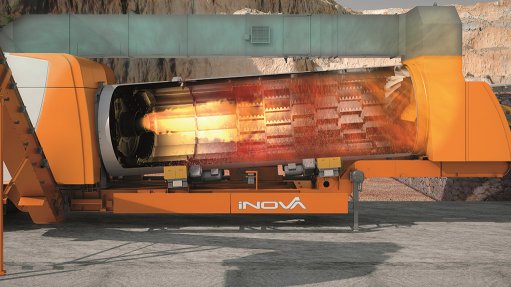 ONE FOR THE ROAD The iNOVA 2000 is the first fully mobile asphalt plant in South Africa
Road and mineral processing industries solutions provider Wirtgen Group South Africa (Wirtgen), the local subsidiary of Wirtgen Group, will launch the iNOVA 2000 – a fully mobile asphalt plant that produces asphalt for the paving of roads – at bauma CONEXPO AFRICA.
Wirtgen sales manager Waylon Kukard enthuses that launching the iNOVA 2000 at the conference is a key point for Wirtgen – it is the latest technology in terms of asphalt plants and the first fully mobile asphalt plant in South Africa.
The plant's mobility is one if its greatest assets, as it is simply pulled to site, plugged in, used and easily transported away once completed. Kukard explains that moving an asphalt plant to different job sites is usually an onerous task, with significant transport costs – conventional asphalt plants can either not be pulled to job sites, or require load beds for transportation or cranes to erect them on site.
Moreover, several technologies are "incredible", compared with the company's previous asphalt plant solution, claims Kukard. Imported from Brazil, the first iNOVA 2000 in South Africa was received by Wirtgen last month; the plant was sold in January and is being commissioned.
Initially, the intention was to import the plant for display at bauma. However, following the unintended, but welcomed sale, Wirtgen is importing a second machine for the expo, indicates Kukard.
"Having already sold an iNOVA 2000, which was not our initial intention, proves that this is something South Africa needs – there are no other fully mobile solutions available."
bauma Exhibit
The launch of the iNOVA 2000 forms part of Wirtgen Group showcasing the innovative solutions of its companies operating internationally in the construction machinery sector – incorporating the traditional brands of Wirtgen, Vögele, Hamm, Kleemann, Benninghoven and Ciber – at bauma CONEXPO AFRICA.
Although each brand will send a company representative to the expo, the large sizes of Benninghoven's equipment does, unfortunately, not allow for its being displayed at the event.

Wirtgen will display the Wirtgen W 200 milling machine, Vögele the Super 1800-3 paver, Kleemann the MC 110 R EVO mobile jaw crusher, and Hamm its 3520 small compacter, HD 90 tandem roller and HD 12 VV compact line tandem roller.
Kukard notes that this spectrum of products encompasses those suited to the company's South African customer base. Therefore, the company will use the expo to maintain and promote local products for the local market. "No machine will be displayed at bauma if we do not intend to bring it to South Africa."
This year's exhibit aims to build on the international success the company has enjoyed at overseas bauma expos, as well as experiences gleaned from previous local exhibitions. Kukard emphasises that bauma expos are key events for the company in terms of showcasing machines and new developments, and launching new machines.
"It is very difficult to get people out of their normal routines to come to our building to view our machines – and these are not always ready for display. "The favourable thing about a show like bauma is that it gets people to come to one location where they can see what our machines actually entail, and to appreciate that we are market leaders in our industries."
Kukard notes that previous local exhibitions yielded relatively fair results, which the company aims to improve on this year. To achieve this, the company has changed the location of its stand to a high visibility area, next to the dual entrance/exit. Moreover, this new location is in line with the pathway to the demonstration area, which the company hopes will guide more foot traffic to its exhibit.
While the company will not participate in the demonstration area, visitors to its stand will be afforded the opportunity to interact with the machines and get a sense of how they operate.
bauma CONEXPO AFRICA is the international trade fair for construction machinery, building material machines, mining machines and construction vehicles, and will take place from March 13 to 16, at the Johannesburg Expo Centre.