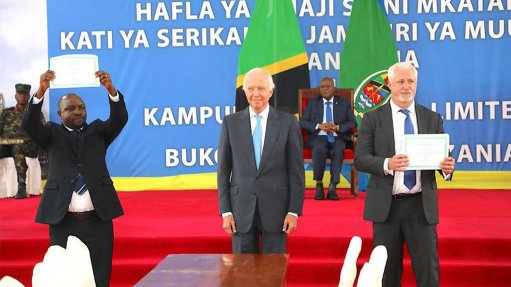 President John Magufuli of Tanzania, seated, looks on as Tanzania's Chief Treasurer Athumani Mbutukwa receives share certificates from Kabanga Nickel vice chairperson Chris von Christierson (centre) and Kabanga Nickel CEO Chris Showalter (right).
JOHANNESBURG (miningweekly.com) – The key to unlocking value of Kabanga Nickel and enabling the full beneficiation of new era metals in Tanzania is an environment-friendly hydrometallurgy process that eliminates smelting and thus slashes the need for electricity.
The Kabanga Nickel Hydromet process – which takes ore to refined metals at lower capital and operating costs cutting carbon dioxide (CO2) emission by 80% and eliminating sulphur dioxide (SO2) emission altogether – is seen as a game changer for Tanzania, by providing the maximum in-country value-add to the East African nation.
Once developed, Kabanga will produce class 1 nickel and cobalt products – two of the key elements used in electric vehicle (EV) batteries – and London Metal Exchange grade A copper cathode.
The World Economic Forum has estimated that demand for high-purity nickel for EV battery production "will increase by a factor of 24 in 2030 compared to 2018 levels".
Mining Weekly can report that the team behind this revolutionary new way of doing things is Lifezone, which is currently also implementing the innovative Kell process at Sedibelo's Pilanesburg Platinum Mines in South Africa.
The innovative new platinum group metals (PGMs) mining and processing project that slashes 82% off electricity use and elevates platinum to a new high level of greenness, leapt out of its starting blocks in North West province this month.
"We've commenced. The tanks are rolling," Pallinghurst managing partner and co-founder Arne Frandsen told Mining Weekly in a Zoom interview.
Palinghurst's PGMs producing Sedibelo Platinum Mines Limited, of which Frandsen is chairperson, is expanding its Pilanesberg Platinum Mines and building the revolutionary new green Kell processing plant, that uses only 18% of the energy normally associated with conventional PGMs smelting, axes associated carbon emissions, improves recoveries, lowers operating costs and eliminates SO2 emissions.
Sedibelo shares an interest in Kell South Africa with the State-owned Industrial Development Corporation (IDC) and founder Keith Liddell through Lifezone. Liddell chairs UK company Kabanga Nickel Limited, which has signed a framework agreement with the government of Tanzania for the development of the Kabanga project, which will mine what is described as a development-ready battery-grade nickel sulphide deposit.
Although Kell is not applicable to the Kabanga nickel concentrate, due to the absence of payable precious metals, the Kabanga Nickel Hydromet facility in Tanzania, which will establish additional advances in energy efficiency and waste utilisation, will draw from the Lifezone team's development of the innovative Kell, which is used for the processing of PGMs, gold and silver concentrates.
Through hydrometallurgy, Kabanga's environmental footprint will be significantly lower than the nickel industry baseline, at a time when nickel itself is helping to decarbonise the world across a broad front.
As with Kell's uplift of PGMs processing, Hydromet also increases recoveries, resulting in faster processing and payment times and permits in-country refining, which Africa is now demanding.
The Kabanga nickel hydromet process stream at the Multi Metals Processing Facility comprises several basic sequential unit operations, all of which Liddell describes to Mining Weekly as being well proven and commonly used in the extractive metallurgical industry.
They provide high recoveries of base metals, and the design has been tailored to specifically suit the characteristics of the Kabanga concentrate. The process uses pressure oxidation technology, with operating conditions well established, for example, in the processing of many refractory gold ores over the past 60 years.
Vale, the world's largest producer of nickel, operates a hydrometallurgical process at its Long Harbour refinery, in Canada, and the Kabanga facility will establish additional advances in energy efficiency and waste utilisation, "drawing from the Lifezone team's extensive experience in hydromet processing of nickel ores and development of the innovative Kell", Liddell informs Mining Weekly.
The main unit operations are:
aqueous pressure oxidation in an autoclave to dissolve the sulphides and take the base metals into solution;
copper refining by solvent extraction and electrowinning;
iron removal to purify the solution for cobalt and nickel refining;
cobalt refining by solvent extraction and electrowinning; and
nickel refining by solvent extraction and electrowinning.
Liddell describes the process as a clean hydrometallurgical alternative to smelting of concentrates that is substantially lower in both capital and operating costs.
Hydromet consumes an estimated 20% of the electricity required for smelting, not only resulting in much lower CO2 emissions and SO2 elimination, but also the elimination of the slag heaps from smelting.
Moreover, smelting constraints on concentrate grade and quality are removed, allowing for increased flotation recoveries and higher overall production of all metals, better utilising the ore resource.
The concentrate will be processed to refined class 1 nickel and cobalt and grade A copper in-country, eliminating the cost and CO2 emissions associated with transportation of concentrate vast distances by rail, road and ship to offshore smelters, while maximising value within Tanzania.
Kabanga's cradle-to-gate mining and processing in-country operation will allow for a sustainable and traceable production chain. These eco-efficiency drivers make modern hydrometallurgical processing superior to pyrometallurgical smelting and effectively unlock the world-class Kabanga project for the first time, making it the game changer for Kabanga after many decades of different owners.
"It's also a game changer for Tanzania, who are very keen to have full beneficiation of their resources in-country, keeping more value in Tanzania and creating more skilled employment as well," says Liddell.
Framework agreement between Kabanga Nickel and the government of Tanzania involves the establishment of the Tembo Nickel Corporation to develop, mine and process the highly prospective Kabanga nickel deposits, in the Ngara district, in the northwest of Tanzania.
Under the terms of the framework agreement, a joint stock company called Tembo, owned 84% by Kabanga Nickel and 16% by the government of Tanzania, has been formally established for the mining, processing and refining of class 1 nickel with cobalt and copper co-products.
A special mining licence and a refinery licence will be granted to Tembo by Tanzania and it has been agreed that economic benefits from the development of the project will be equitably shared between the two shareholders.
In parallel, Kabanga Nickel has concluded an agreement with Barrick and Glencore, the previous joint owners of the Kabanga project. In terms of this agreement, Kabanga Nickel has exclusively acquired all data and information relating to the previous mineral resource estimation, all metallurgical test work and piloting data, analyses and studies, including a comprehensive draft feasibility study report produced in 2014 and subsequent updates.
"As the world forges ahead with plans to decarbonise, it's increasingly looking towards more sustainable means to satisfy today's growing demand for greener inputs to manufacture electric vehicles and specifically their batteries. Equally, we are ever more conscious of the importance of sourcing traceable raw materials responsibly.
At the signing in Bukoba, Kabanga Nickel CEO Chris Showalter expressed delight at partnering the Tanzanian government to create shared value for all stakeholders. The partnership, he said, had been set up to maximise the value that would stay and grow in Tanzania. "This is a world-class project and we have the team that can deliver it and the partnership model that will underpin that delivery," he added.
Exploration and resource definition completed to date has relied on 600 km of drilling. Based on the existing definitive feasibility study, the Kabanga project has a measured, indicated and inferred resource estimate of 58-million tonnes of ore at an average grade of 2.62% nickel with contained nickel metal content of 1.52-million tonnes. The 0.20%-grade cobalt contains metal exceeding 100 000 t.