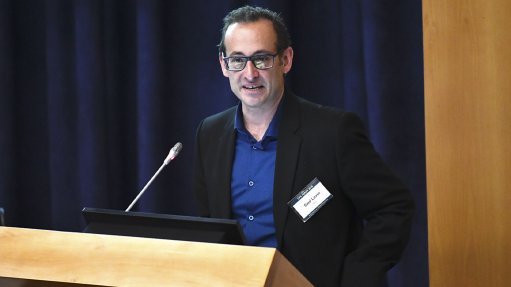 TIPS executive director Saul Levin
Photo by: Creamer Media's Dylan Slater
Industrialisation requires innovation and, despite increased investment into science, technology and innovation, as well as the implementation of policies designed to encourage innovation, South Africa's innovation activities remain constrained, Trade and Industrial Policy Strategies (TIPS) executive director Saul Levin said on Thursday.
Policymakers, industry leaders, nongovernment organisations and academics gathered for the TIPS Forum, in Midrand, on Thursday, to discuss innovation and industrialisation, keeping in mind the challenges brought about by technological change in the Fourth Industrial Revolution (4IR).
Levin opened the conference, stating that innovation was critical for industrial policy and industrial development, while also being a key aspect of technology upgrades and ultimately economic growth.
"Hopefully the new Cabinet of Ministers [announced by President Cyril Ramaphosa on Wednesday] will increase resources towards research and development," he stated.
Further, European Union (EU) ambassador to South Africa Marcus Cornaro pointed out that South Africa had managed to turn around sharp declines in foreign investment since 2014, but that there was still a long way to go towards meeting Ramaphosa's R100-billion investment target in the coming years.
He said that a trusting and efficient relationship between countries was vital to driving innovation. The EU currently exports high-tech equipment to South Africa, which Cornaro noted was underpinned by around 20 policy dialogues in areas such as natural resources, science and technology, climate change, education and digital skills, human rights, peace and security, biodiversity and water management issues; meaning that South Africa was not isolated in terms of industrial and innovation policy.
Levin delivered a speech on behalf of Thandi Pele of the DTI, arguing that innovation, if not managed correctly, could be a root cause of trade wars, which the world was witnessing.
Pele wrote that the trade wars could be linked to contestation for mastery of 4IR, where there was the risk of a "winner takes all" attitude.
"One can rightly or wrongly argue that the Huawei/Google debacle is one such example and this should give us food for thought, or a clearer perspective, of the interface between innovation, industrialisation and the high stakes thereof," she said.
However, Pele also acknowledged that the South African economy was not operating in isolation to the rest of the world and that the survival of industries was often linked to their ability to innovate and their ability to respond to a changing world.
"The needs and requirements of consumers in the local and global markets are becoming more complex and diversified. Therefore, in approaching industrialisation, social partners have to give special consideration to and focus on levers and polices that build the human and industrial capital.
"The overarching aim is to achieve and build a globally competitive knowledge economy with products and services that are responsive to the needs of the local and global markets."
Pele continued that the challenge for industrial policy remained the development of an economy that continuously grows its ability to produce more complex and higher value-added products, with greater efficiency.