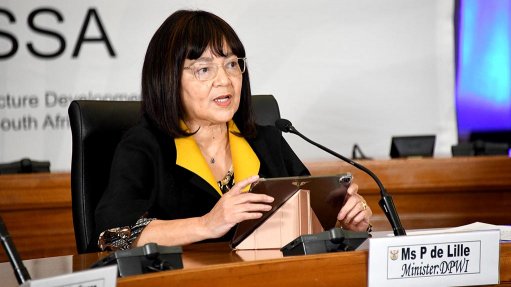 Public Works and Infrastructure Minister Patricia de Lille
Public Works and Infrastructure Minister Patricia de Lille has confirmed that a single entry point for all the projects in the country's Infrastructure Investment Plan will be created, through an entity called Infrastructure South Africa (ISA).
ISA will be at arm's length from the Department of Public Works and Infrastructure (DPWI), and will be responsible for project preparation, packaging, funding pathways and providing strategic oversight over all the gazetted projects.
Additionally, ISA is in the process of conceptualising and drafting a 25-year National Infrastructure Plan to provide longer-term direction for the built environment from government's side.
This follows after 276 projects that were identified out of the President's inaugural Sustainable Infrastructure Development Symposium South Africa, which was held in June, have been widely hailed as the start of transforming and resurrecting the construction sector, as well as the economy.
The 276 projects in the Infrastructure Investment Plan are valued at more than R2.3-trillion.
On May 27, Cabinet approved the establishment plan and, on August 17, the DPWI put into operation the Infrastructure Investment Fund, to which government will provide R100-million in seed capital to help with project planning.
ISA will, ultimately, pursue various forms of funding for the projects, including project bonds, green infrastructure bonds, transformation bonds and green climate funds.
De Lille says this infrastructure pipeline was created to set South Africa back on track, considering that the construction sector will contract by at least 14% year-on-year this year and account for most of the job losses as a result of the Covid-19 pandemic.
South Africa currently spends about 5.8% of its gross domestic product (GDP) on infrastructure, while the National Development Plan: Vision 2030 targets a 10% GDP spend on infrastructure.
De Lille explains that her department has been on a drive to determine what urgent reforms are necessary to revive infrastructure investment, with financial institutions pointing out the need for a credible pipeline of infrastructure projects that are ready for investment and implementation, and an overall call for infrastructure to be defragmented.
The DPWI, therefore, changed the methodology of project planning to ensure that implementation. The new methodology is called the Sustainable Infrastructure Development System (SIDS), which was launched on June 24, and will guide the country's infrastructure development agenda.
"This methodology will ensure that infrastructure development is not merely undertaken in a transactional manner, which is where we have fallen short over the years. This way of working will effect the identification, consideration, evaluation, approval and implementation of workable infrastructure and ensure that projects are bankable," De Lille notes.
On July 24, government gazetted 50 projects, valued at just under R340-billion that have been identified as compliant with the SIDS methodology. Additionally, DPWI gazetted 12 special projects, related to rural roads, rural bridges and township clean-ups, which the DPWI has applied for R9-billion funding from the Presidential Public Employment Programme Fund.
De Lille explains that the Presidential Infrastructure Coordinating Commission will work alongside ISA, with a steering committee and technical advisory committee being finalised within the commission, to monitor and advise on all the strategic infrastructure projects.
Additionally, a property working group within ISA will be set up to look at how government assets such as land can be used to link up with the infrastructure strategy.
The Minister says the department is working hard to ensure that the necessary measures are in place to detect and prevent corruption with the implementation of the infrastructure projects.
The SIDS methodology prioritises skills development and empowering previously disadvantaged groups, women and people with disabilities.
De Lille will report to Cabinet on progress made by the ISA on a quarterly basis.
The Presidency's Investment and Infrastructure Office head, Dr Kgosientsho Ramokgopa, said that, if anything positive came out of the pandemic for South Africa, it is that the State is more open to ideas and more aggressive in the adoption of instruments to help economic recovery.