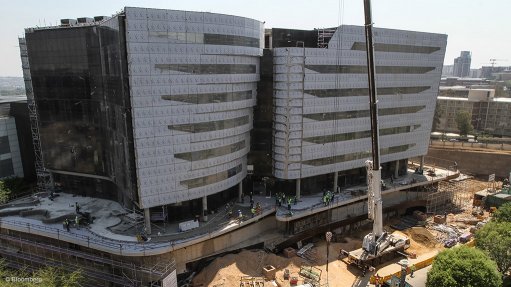 FUELLING INVESTMENT Heavy-duty construction and infrastructure projects under way in Africa are likely to lead to gradual, but significant investment in equipment and machinery
Photo by: Bloomberg
After a steady decline in construction jobs since the boom in 2010, the South African construction industry has welcomed Finance Minister Nhlanhla Nene's announcement in the 2014 medium term Budget speech that the country is set to spend R847-billion on new and upgraded infrastructure over the next three years, notes exhibition organiser BC Expo South Africa.
CEO Elaine Crewe predicts that construction companies are likely to start investing heavily in equipment and machinery to strengthen capacity, increase turnaround time and capitalise on the investment.
She also believes that the number of heavy-duty construction and infrastructure projects under way on the continent and in South Africa will gradually stimulate investment in capital equipment.
Crewe further emphasises the importance of companies identifying and planning their equipment requirements as soon as possible: "Quality, reliability and after-hours services are key factors when deciding on equipment."
The benefits provided by certain machinery and the way in which the acquisition of a unit will promote a company's objective are also key considerations, she adds.
In light of this, BC Expo South Africa is encouraged that capital equipment suppliers, including the likes of Bell Equipment, Barloworld Equipment, CSE Construction and High Power Equipment Africa will attend the construction and mining trade fair Bauma Conexpo Africa 2015 to showcase new equipment and enhance networking opportunities.
BC Expo South Africa will host the trade fair, which will take place from September 15 to 18, at the Johannesburg Expo Centre, for construction machinery, building material machines, mining machines and construction vehicles.
"These companies are meeting industry demand by introducing equipment that enables construction and mining companies to work smarter, faster and more cost-effectively," says Crewe.
Meanwhile, materials handling equipment manufacturing and distribution company Bell Equipment CEO Gary Bell says he is excited that Bauma Conexpo Africa 2015 promises to build on the inaugural show by attracting more industry role-players and generating positive spin-offs for the industry and customers.
Equipment supplier Barloworld Equipment marketing GM Samantha Swanepoel agrees, citing the expo as "an excellent opportunity to unveil new CAT equipment technologies and earthmoving solutions to the Southern Africa mining, construction and industrial customer base".
Other major players that will exhibit for the first time include construction equipment companies Case Construction, Deutz Dieselpower, MTU, New Holland Construction, Scania, Ulma and Waco.
Crewe further explains that the trade fair will include a forum which will provide presentations from Southern African Development Community countries to focus on regional projects currently in the pipeline, as well as on projects that are "shovel ready".
"It is important for key players to attend these forums, as they need to be informed about these projects and their potential," she adds.
Nevertheless, Crewe stresses that, while funding might remain a key industry challenge, finding capital to fund acquisitions remains key, as labour costs and increasing electricity prices will be deciding factors in the next few years in terms of long-term sustainability consequences.
"Some of the greatest risks facing construction businesses are labour unrest, volatile prices and fluctuating exchange rates," she adds, suggesting that investment growth is likely to remain low in the next few years, pending further developments and adjustments in the next Budget speech.