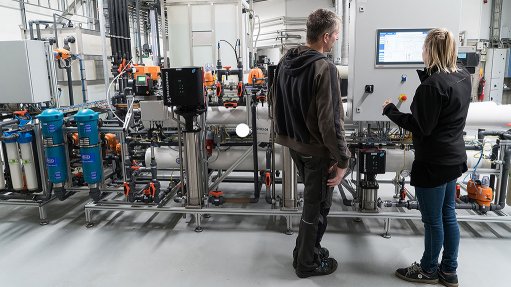 PERFORMING UNDER PRESSURE Pump intelligence is non-negotiable and provides accurate information in wastewater treatment plants
Government's driving increased industrialisation to recover economic growth and employment numbers will stimulate an increased need for intelligent wastewater pump systems.
Higher government spending on water-related schemes and projects, as well as infrastructure projects, will bode well for wastewater pump systems demand, and pumps manufacturer Grundfos is ready to cater for this need.
In addition to the associated environmental considerations, such as greener treatment processes, water and energy savings are also driving demand for these systems.
A report by consulting firm 6Wresearch, published in June 2019, predicts that the water-treatment chemicals industry will grow at a compound annual rate of 2.3% from 2019 to 2025.
Wastewater pump and treatment systems are increasingly being demanded by not only industry, but also municipalities, to cater for growing urban populations and provide water and sanitation for rural areas, which was especially ramped up during Covid-19.
Grundfos will launch a Wastewater Connect system in early 2021, an intelligent system that allows for full control over a wastewater pump station.
This connectivity provides detailed, real-time information on the pump system's functioning and efficiency, with an early warning system to detect potential problems such as parts replacement or alert the customer to preventive maintenance measures.
Preventive maintenance avoids costly downtime or components having to be replaced once a complete system failure occurs.
Further, Grundfos also offers an intelligent water treatment system – or dosing pumps – for water to be reused.
For example, Virgin Active gyms use Grundfos' smart digital water-treatment system to ensure that water is at an ideal quality for consumption, while South African Breweries use Grundfos pump systems for optimal energy savings and pumps control at its manufacturing facilities.
Grundfos lead business development manager Niren Rohanlal says pump intelligence has become a non-negotiable for modern-day end-users.
A pump system that incorporates digital technology is more user friendly, consequently making the system more accessible to more users and allowing for remote access to control the system using digital tools.
Rohanlal tells Engineering News that Grundfos launched a virtual service team in May to assist end-users with technical issues, as travel by its technicians and engineers was restricted during South Africa's Level 5 and 4 lockdowns because of Covid-19.
Responding to whether the company will continue to offer virtual servicing now that restrictions have eased, Rohanlal says end-users in remote locations continue to be assisted virtually with straightforward problems that they can fix themselves.
With more complex issues, Grundfos can send its technical engineers to site or request that the nearest authorised service provider assist in the case of remote operations such as farms or mines.
This offering helps to limit not only physical contact between people during this time of the pandemic, but also travelling and call-out costs, while helping customers build a better understanding of their pump systems, says Rohanlal.
Pioneering Intelligence
Rohanlal avers that smart pump systems started with basic energy-saving technology and evolved to the current advanced systems that can be controlled remotely.
Grundfos has been pioneering pump intelligence since the early 1990s. Its pump systems have become increasingly simpler to use and are manufactured with lighter materials such as composite plastics, instead of metal, to be lighter and recyclable.
"Fortunately for us, there has been great acceptance of intelligence and digitalisation in the pumps industry. Grundfos intelligent pumps have not only been accepted but are also in demand across many industries."
Rohanlal cites the Leonardo mixed-use development, in Sandton, as an example of more advanced pump technology that Grundfos installed.
The pump system continuously monitors the condition of components and its operation, and automatically contacts the service provider when a problem is identified.
The system provides a detailed description of what the technician has to do, as well as the equipment that is required to solve the issue. Rohanlal foresees growth for these types of automated systems.
"Commercial buildings need increasingly efficient systems, while industrial users also demand more intelligent systems to save costs and increase output. I foresee that, as the Internet of Things becomes more powerful, pumps will follow suit in keeping up with digital technology trends.
"There is more advanced technology that is still to come to our market," he concludes.