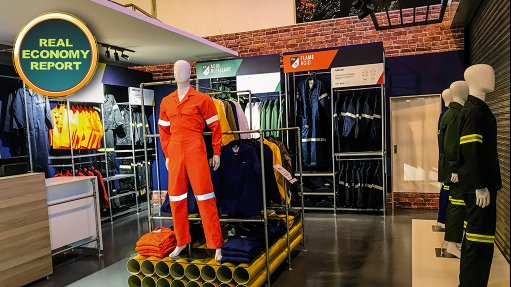 From Creamer Media in Johannesburg, this is the Real Economy Report.
Sashnee Moodley:
Industrial garment manufacturer Sweet-Orr has opened a showroom near the OR Tambo International Airport, in Boksburg, which stocks its utility, essential and special ranges of industrial workwear. Schalk Burger has the story.
Schalk Burger:
The new showroom caters for the company's walk-in clients and allows Sweet-Orr to get close to the end user, and thereby giving the manufacturer a better understanding of market requirements.
It The showroom will allow individual tradesmen and artisans to access the utility, essential and specialised ranges of workwear. It is located close to the industrial areas of Germiston and Dunswart, and en route to eMalahleni and Middelburg, in Mpumalanga.
Sweet-Orr executive director Denver Berman-Jacob explains the company's workwear showroom plans.
Sweet-Orr executive director Denver Berman-Jacob:
Sashnee Moodley:
Other news making headlines:
More than R650m budgeted to prepare Gauteng land for expropriation
The Department of Human Settlements has budgeted more than R650-million to prepare identified portions of land in Gauteng for expropriation without compensation.
Human Settlements MEC Dikgang Uhuru Moiloa:
Sashnee Moodley:
That's Creamer Media's Real Economy Report. Join us again next week for more news and insight into South Africa's real economy.