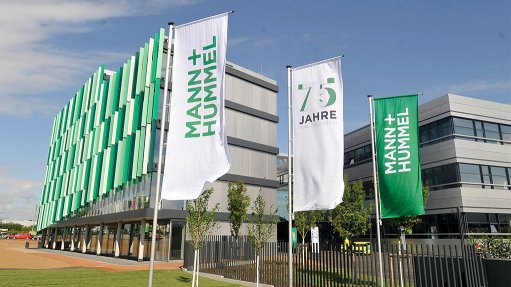 SMART AIR MANAGEMENT Through the adoption of IoT-enabled indoor air quality solutions, indoor spaces can be virtually managed as digital spaces
Germany-based international filter manufacturer Mann+Hummel – with a local subsidiary based in Boksburg – launched its brand for smart filtration solutions for indoor air filtration and ventilation within buildings at the 2018 Chillventa exhibition held last month.
Over 90% of the global population live in areas where air pollution exceeds World Health Organization prescribed limitations, according to Mann+Hummel chief technology officer Charles Vaillant.
Vaillant states that poor air quality has a significant effect on the level of comfort, productivity and health of individuals within a given building, adding that, owing to the recirculating of air within confined spaces, it is common for pollution levels within buildings to be higher than the comparative external environment. This is caused by contaminants that are generated indoors, such as pollutant gases, allergens, bacteria, formaldehyde, and volatile organic compounds (VOCs).
He further states that this is significantly distressing as the majority of people spend the bulk of their time indoors.
"So how can Mann+Hummel clients take control of the indoor air quality? The answer is to combine deep expertise in filtration with the latest in smart sensing technologies," enthuses Vaillant, while explaining why the company opted to develop its smart filtration solution, OurAir.
OurAir is a comprehensive solutions package combining Mann+Hummel's well renowned filtration expertise with unchallenged engineering innovation and smart technologies, describes Vaillant.
The technology is based on three components enabling users to analyse, improve and manage the indoor air quality of their buildings through the application of Internet of Things (IoT) technology.
"It helps everyone take control of the air around them and therefore allows a positive influence on their health, productivity and comfort."
Vaillant states that the first precondition to providing the best air quality is having transparency on the actual status quo. He says the OurAir air quality measuring devices continuously measure the quality of the indoor air around a building, taking into account different contamination parameters. Further, the OurAir app and a linked Web portal reliably monitors the acquired data in real time and provides up-to-date reports of air pollution in and around a building.
In the case that OurAir detects poor air quality, high standard heating, ventilation and air conditioning filters and indoor air purification systems built into the system are able to effectively remove pollutant gases, allergens, bacteria, formaldehyde, VOCs and particular matter.
Through the adoption of IoT-enabled indoor air quality solutions like OurAir, indoor spaces can be virtually managed as digital spaces, enthuses Vaillant. Air quality can be quantified in real time and connected air purification solutions can be controlled remotely. This enables building managers to instantly manage the air quality of several different locations remotely using their air quality management dashboard. The solution can be implemented for office buildings, hotels, schools, as well as other commercial, residential or industrial buildings.
"With our 76 years of experience in filtration and unrivalled engineering power, we are very well-positioned to help solve the problem of indoor air pollution," says Vaillant. "In addition, we are very interested in cooperating with new partners. Over the last months, we have received a lot of positive feedback and interests beyond our traditional customers. Therefore, we are pleased to announce that Mann+Hummel will also offer OurAir as a Platform as a Service model. This way everyone interested in providing smart air management to their respective customers can deploy the solution, including proper hardware, software, apps and Big Data analytics."