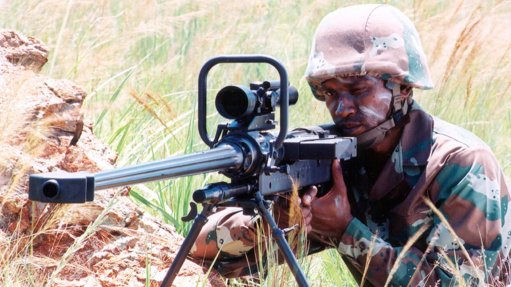 A Denel NTW-20 anti-material rifle
Photo by: Denel
India has lifted its blacklisting of South African State-owned defence industrial group Denel, US website Defensenews.com reported on Monday, citing a source in the Indian Ministry of Defence (MoD). The MoD reportedly communicated the ending of the ban to Denel in a letter dispatched on August 12.
The group had been blacklisted by the previous Indian government following allegations that it had paid kickbacks in 2002 to win a contract for 1 000 NTW-20 anti-material rifles (plus 398 000 rounds of ammunition) for the Indian Army. The ban was imposed in 2005, by which time 400 of the rifles had been delivered. At the same time, India's Central Bureau of Investigation (CBI) launched a probe into the deal.
The CBI terminated the investigation late last year, after eight years of work failed to find evidence to support the allegations. "Denel will now emerge as a keen competitor in India's $4-billion variety [sic] of 155 mm/52 calibre artillery gun projects," Indian defence analyst Nitin Mehta told the US news site. The ban on Denel actually halted the Indian Army's acquisition project for 155 mm/52 calibre artillery pieces.
The lifting of the ban on the South African group could have a wider significance as well. An anonymous, New Delhi-based, executive for a non-Indian defence group told Defensenews that the "decision to de-blacklist Denel and allow it to do business in India will send a positive signal to overseas defence companies to do business in India".
An anti-material rifle is a large calibre rifle (in the case of the NTW-20, the calibre is 20 mm) intended to target vehicles, semi-hard and high-value equipment at long range. Popularly referred to as a kind of sniper rifle, these weapons do not, in fact, necessarily, fall within this category. The NTW-20 is fitted with a recoil management system, allowing it to be fired by slightly built soldiers. It comes in two versions, the NTW-20x110 and the NTW-20x82.