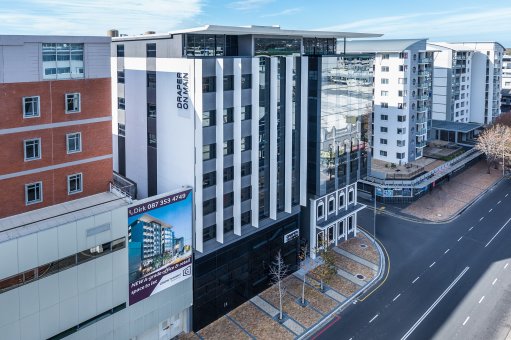 Growthpoint's Draper on Main property, in Cape Town
Certified green buildings continue to outperform non-certified assets in the commercial property sector, the MSCI South Africa Green Annual Property Index shows.
Particularly, certified green, prime and A-grade offices outperformed non-certified assets of a similar quality by 170 basis points in 2021.
The yearly index provides an independent view on the investment performance of offices.
In 2021, the index sample comprised 303 prime and A-grade office properties valued at R59-billion, of which 153 were green-certified buildings, and 150 non-certified offices.
In this sixth edition, the MSCI index once again reflects the business case for green-rated buildings, says property company and sponsor of the index Growthpoint Properties.
Growthpoint office asset management head Paul Kollenberg says that, not only are these buildings more efficient and reduce the cost of occupancy for tenants, they also provide a healthier environment for occupants.
In 2021, the green-certified office sample delivered a total return of 2.2%, which is 170 basis points above the non-certified sample's return of 0.5% - this is a similar outperformance to that measured in 2020.
The cumulative total return of green-certified offices stands at 45.2%, since the inception of the index.
Over this period, green-certified offices outperformed the non-certified sample by 19.1%, which is an annualised outperformance of 260 basis points.
Kollenberg says a key reason for the strong performance of green-certified offices is its comparatively high-income return, despite a 29% higher capital value per square meter, owing to an average 30% higher net operating income per square meter, compared with non-certified offices – which shows the importance of green office accommodation for blue-chip tenants.
Green certified offices typically boast lower per square meter use of electricity, on average 11.6% lower, as well as water, at an average 20.7% lower.
It is encouraging to see that green-certified buildings continue to best non-certified buildings, particularly in what is an extremely tough office market at the moment, notes MSCI South Africa client coverage VP Eileen Andrew.
She adds that vacancies are also typically lower on green-certified buildings, while margins are higher and perceived risk in the income stream is lower.
"Certification provides a proven tool for asset managers to leverage off giving investors an enhanced return," Andrew concludes.