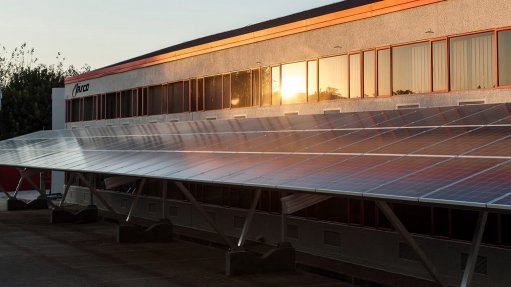 A DECADE IN Valsa Trading has been in the photovoltaic solar industry in South Africa for more than ten years
With South Africa aiming to move towards more diversified energy generation systems as outlined in the Integrated Resource Plan 2019 (IRP 2019), it is crucial to increase the country's energy-storage capacities, says solar industry supplier Valsa Trading.
"State-owned power utility Eskom normally uses energy storage in a grid-support configuration for grid-stability and to support existing localised substation infrastructure, where peak demand is higher than what can be supplied for short periods," Valsa MD Svilen Voychev adds.
However, he notes that the utility can also use storage to assist the grid and the existing generating fleet during times when the peak demand is high.
The benefit of this type of energy storage technology, he says, is that it can be rolled out reasonably quickly to localised areas where it is most needed.
"It would benefit South Africa to adopt these energy storage technologies, as other countries have done so successfully," Voychev tells Engineering News.
He points out there should be a more rigorous approach regarding the uptake of energy storage technologies in South Africa, especially where backup power is a concern, as energy is required throughout the night or where photovoltaic (PV) energy is required to be stored for later use.
"Energy storage is still more expensive than standard PV technologies. However, in the past year, we have seen a reduction in the cost of solar, with technologies now also offering longer life expectations."
Further, while the IRP 2019 calls for a fair energy mix in the just transition, Valsa advances that an ideal energy mix would be a scenario where PV power is generated during the day and stored in energy storage technologies for later use at night.
Voychev emphasises that excess energy should be exported back to the grid for resell or use by the commercial and industrial sectors.
Additionally, energy storage technology should be used by everyone in times of peak load demand to take the strain off the municipal grid.
Consequently, Valsa is working extensively on projects in the commercial and domestic sectors in Southern Africa.
"We have been in the PV solar industry in South Africa for more than ten years and we would like to transfer our knowledge regarding PV solar and energy storage technologies to individuals, business and governments in other African countries," he enthuses.
Valsa is in ongoing discussions with suppliers regarding the development of new storage solutions with improved performance capability.
Voychev points out that even though South Africa has adopted renewable energy, feeding back to the grid and the storage of the energy are not clearly legislated.
"The country's regulations need to be overhauled to streamline the approval process and make it easier to install renewable technologies," he notes.
Moreover, he also mentions that the primary factor that could drive a more rigorous uptake of hybrid power and energy storage solutions in South Africa is cost.
As such, Voychev believes that government-initiated rebates, incentive schemes and a regulation overhaul will be of great assistance to reduce the load on an already struggling grid. In addition, this will reduce carbon emissions amid tightening environmental standards.