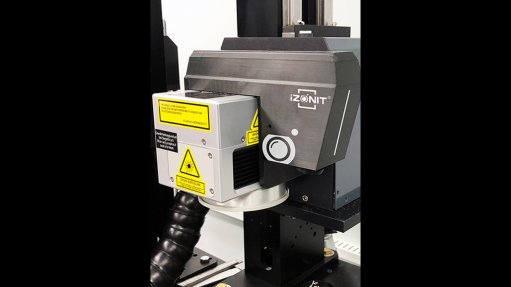 iZONIT VISION SYSTEM The product enables the user to establish view mark positioning accurately and easily before firing a laser
Identification and traceability company Traceability Solutions has seen an increase in enquiries for laser-marking systems despite the national lockdown to curb the spread of Covid-19, says MD Kelby Parker.
"Many sectors, such as fast-moving consumer goods, did not have a loss of production from the slowdown in economic activity, with companies realising increased production outputs that required additional marking cycles on their production lines."
Additionally, with airlines significantly affected by the pandemic, there was a significant reduction in the amount of cargo being moved between countries. This resulted in many companies struggling to supply much-needed consumables for other marking technologies.
Therefore, many companies had to consider alternative marking options that do not require consumables, which created greater demand for laser-based technologies, says Parker.
Traceability Solutions, an essential service provider, is equipped to work remotely and, subsequently, managed to keep forging ahead during the hard lockdown.
"We are hearing of businesses closing their doors and staff finding themselves unemployed. We are hopeful that government will start opening up some additional sectors soon so that the damage to the economy can be limited," states Parker.
Laser marking is faster than other marking applicators, resulting in more products being marked and less downtime during production. As laser-based technologies eliminate the need for costly consumables, a significant cost saving is also realised over the long term.
"Companies should invest in laser-marking systems when they have larger volumes of product that need marking or require accurate markings. Faster line and production speeds are also better suited to lasers than the inkjet alternative. In addition, once the hardware has been procured, only intermittent preventative maintenance is required, adding to customers' cost savings," explains Parker.
He notes that other systems require more frequent preventative maintenance and service intervals.
Product Potential
Traceability Solutions is the distributor of US-based laser-marking systems manufacturer Telesis Technologies in South Africa.
Parker says the Fourth Industrial Revolution is a significant factor in the uptake of the Teleview option for Telesis laser-marking solutions, offering integrated vision code reading technology.
Teleview was introduced as a standard feature of the F-Series laser-marking system from Telesis in 2017.Traceability Solutions brought the first systems into the country last year, once the Teleview was tried and tested in other markets.
Traceability Solutions, which notes a massive drive in the automation and use of smart technologies, predicts that the need for smart production lines will increase.
"We are well equipped to deal with such enquiries and implement them as standalone systems or as part of marking and identification solutions," highlights Parker, adding that the company has supplied various systems with the Teleview function.
Any industry requiring the grading, inspection and quality of data matrix codes on its products should consider adopting Teleview, while there is an option available to install a Cognex barcode verifier to read and grade to International Organisation for Standardisation and Association for Automatic Identification and Mobility Direct Part Mark standards. Traceability Solutions has noted a significant increase in demand for the Teleview function from the automotive industry in recent months.
The product is designed to the highest quality and standards, ensuring that all products supplied meet international standards – saving time and money, increasing productivity and revenue.
Meanwhile, the iZONIT Vision System, introduced locally in 2019, enables the user to establish view mark positioning accurately and easily before firing a laser.
In mid-2019, the system was made available on Telesis laser systems, such as the UV/one laser system.
Traceability Solutions recommends iZONIT to any industry that requires increased efficiency and effectiveness, especially when seeking a higher degree of precision when marking smaller parts.
The product also reduces training time of new operators, as well as startup and part-changeover times.
"It takes the majority of the margin for error away from inexperienced operators and allows for precision marking using the system's intelligence," says Parker.
Orders for this technology have been received from the automotive sector, and some component manufactures.
Further, the Telesis Integrated InLine Vision advanced code-reading and custom inspection solution reduces footprint and integration costs, compared with external vision systems.
"Owing to the lockdown, we have adhered to a conservative marketing budget, but hopefully this will change in the coming months, and we will be able to drive our new product ranges," concludes Parker.