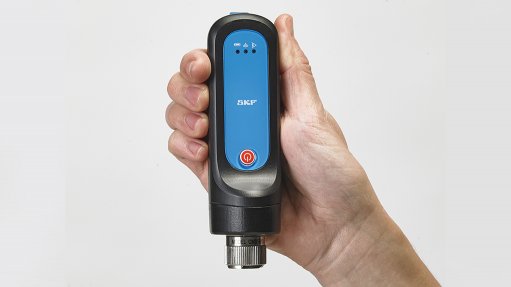 The QuickCollect sensor from SKF
A sensor that monitors rotating equipment performance is now certified for use in hazardous areas, extending condition monitoring into new applications and industries.
The sensor is certified to both the international IECEx and European ATEX standards, for use in Zone 1 hazardous areas. In addition, it is approved for CSA Class I, Division 2, making it suitable for certain applications in North America.
The QuickCollect sensor from SKF collects vibration and temperature data. The new hazardous area approval to both European and International standards, allows the sensor to be used in places that would previously have required a so-called hot work permit.
The certification means that the sensor can now be used in various applications in a range of sectors, including the petrochemicals, mining and marine industries. It also allows for digitalisation of data into hazardous areas.
The QuickCollect sensor can be used in conjunction with SKF's ProCollect mobile application, which connects the sensor to the company's Web-based software platform, Enlight Centre. Together, this creates a portable condition monitoring system, called SKF Enlight ProCollect, that offers direct access to experts in remote diagnostic services.
The package is available as a monthly or annual subscription service, which allows for packages to be tailored to customers' needs.
Monitoring hazardous areas has traditionally been handled manually, due to a lack of certified equipment. Now, fully automated predictive maintenance can be introduced, which aims to streamline data collection, spot errors and faults quickly, and eliminate the use of paperwork systems.
The company explains that its solution is scalable and can be tailored to the size of operation and according to specific needs. The solution is seen as a cost-effective package, with a price similar to that of SKF's standard solution.
The package will typically be used on rotating machinery such as pumps and compressors. As well as providing vibration and temperature data, it prompts technicians to gather other maintenance information, such as taking a photograph of a component, giving the analyst more data to provide the correct insights on which to base a decision.