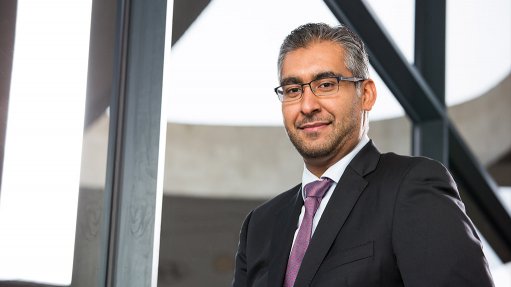 Imperial Logistics group CEO Mohammed Akojee
JSE-listed Imperial Logistics' restructuring and simplifying efforts since 2019 have contributed to it reporting an operating profit of R2.3-billion and basic headline earnings per share (HEPS) of 334c for the financial year ended June 30.
This compares with an operating profit of R1.4-billion and basic HEPS of 105c posted for the year ended June 30, 2020.
The company declared an interim dividend of 83c apiece, but not a final dividend. It had paid out a 167c dividend in the 2020 financial year.
Imperial recorded a strong recovery in volumes and profitability, as well as generated strong cash flow of R900-million.
The group's balance sheet was supported by R4.7-billion in proceeds from the sale of Imperial's European and South American shipping businesses.
Imperial re-introduced core earnings per share (EPS) as a "fairer" reflection of its trading performance. Continuing core EPS amounted to 448c in the year under review, which was 215% higher year-on-year.
This while EPS were up 100% year-on-year to 512c.
Earnings before interest, taxes, depreciation and amortisation came to R4.9-billion in the year under review – a 22% year-on-year improvement.
The company explains that it witnessed a recovery in volumes as Covid-19 restrictions eased in key markets; however, many of these markets in Africa were still negatively impacted by, for example, alcohol and tobacco sales bans.
Additionally, the automotive industry in Europe was negatively impacted by a global shortage of semi-conductors and the heightened impact of Brexit resulted in slower imports into, and exports from, the UK and a shortage of drivers in the UK.
While the impact of Covid-19 on operations was not as severe as the impact recorded in the 2020 financial year, Imperial's management estimates that the pandemic negatively impacted revenue and operating profit by about R2.6-billion and R346-million, respectively, in the year under review.
"Throughout the Covid-19 pandemic, we have maintained a sound financial position, generating cash, tightly managing costs and executing our strategic imperatives to make us resilient for the future.
"The benefits are reflected in these results. We also continue to support our stakeholders and countries of operation, strongly demonstrating our purpose as a business, which is connecting Africa and the world and improving people's lives with access to quality products and services," comments group CEO Mohammed Akojee.
The company concluded strategic acquisitions valued at R120-million in the year under review, including a 49% shareholding in Pharmafrique, a 60% shareholding in Parcel Ninja, and two acquisitions of shares in Deep Catch Namibia Holdings and the J&J Group, which are subject to relevant approvals.
Imperial also concluded a broad-based black economic empowerment deal for 25% of its Logistics South Africa Group, in July.
Disposals included Pharmed – the European Shipping operations – for R3.4-billion and the South American shipping business for R1.3-billion.
Imperial in July entered into a transaction implementation agreement regarding a cash offer of R66 a share from global infrastructure-led supply chain group DP World to acquire all outstanding shares of Imperial, implying an estimated aggregate cash consideration of R12.7-billion.
The deal is still undergoing regulatory and shareholder approvals, and it is the reason for the company withholding a dividend, since it results in a higher offer price.
Akojee expects the deal to be concluded by February, which will effectively delist Imperial from the JSE.
OPERATIONS
Imperial's Market Access business grew revenue and operating profit by 30% and 13% respectively, supported by successful integration of acquisitions, a strong recovery in most businesses and good contract gains.
Akojee says operating margin continued to be under pressure mainly in the Healthcare business in Nigeria, the Consumer business in Mozambique and the Healthcare medical supplies and kitting business (Imres), decreasing overall from 6.1% in the prior financial year to 5.3% in the reporting year.
Covid-19 impacts resulted in supply chain disruptions, with the procurement cost of certain product categories having increased significantly during the year.
The investment in the new Market Access organisational structure is proving its success, with new business being converted and a healthy pipeline of new opportunities being built, the company states.
The Logistics Africa business increased its revenue and operating profit by 2% and 31% respectively, despite the first-half's performance being significantly impacted by Covid-19 lockdown restrictions and the ban on alcohol and tobacco sales.
Operating margin improved to 6.2% from 4.9% in the prior financial year.
The company reports that results were positively supported by solid contract renewal rates, contract gains and cost saving initiatives.
Imperial adds that two provinces in South Africa, KwaZulu-Natal and Gauteng, were significantly impacted by over a week of unrest in July. "We increased security measures and subsequently resumed operations when it was safe to do so
"We provided over 2 500 food parcels to our employees and their families in KwaZulu-Natal, we made a cash donation of R1-million to the Gift of the Givers Humanitarian organisation and we are contributing R3-million to the Solidarity Fund's Humanitarian Crisis Relief in South Africa," Akojee notes.
The Logistics International business recorded significant improvement in trading activity on the back of the easing Covid-19 restrictions and economic recovery over the past 12 months.
As a result, Logistics International achieved strong revenue and operating profit growth in euros of 10% and in excess of 100%, respectively, and, in rand terms, revenue rose 17%, while operating profit increased by more than 100% in the year under review.
Imperial says its results were supported by new contract gains, effective cost management and volume recovery in the key industries of operation as production ramped up, despite the negative impact of Brexit on the UK operations and the global shortage of semi-conductors in the automotive industry.
While many of Imperial's markets continue to face uncertainty and volatility, the group's balance sheet remains strong and resilient, with headroom in terms of debt capacity and liquidity to facilitate strategic growth aspirations.
The start to the 2022 financial year has so far been challenging, Akojee admits, owing to the July social unrest in South Africa, alcohol sale restrictions in South Africa and Mozambique, a shortage of semi-conductors across Europe and higher supply chain costs amid unavailability of containers in some markets.
"While we will continue to meet the demands and manage the implications of the pandemic in the short-term, we will also ensure that we continue to deliver on our strategic objectives."