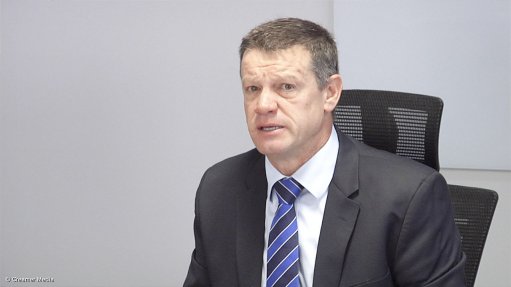 Impala Platinum Rustenburg CE Mark Munroe
Photo by: Creamer Media
JOHANNESBURG (miningweekly.com) – The arrest of the chief executive of Implats' Implala Platinum Rustenburg mining operations was on Friday welcomed by the Mineral Resources and Energy Parliamentary chairperson Sahlulele Luzipo, who on Thursday called on law enforcement agencies to act decisively against mining executives who contravened South Africa's Covid-19 lockdown regulations.
Impala Platinum Rustenburg CE Mark Munroe was granted bail of R60 000 after appearing in court on Friday. This followed Impala Platinum Limited, a subsidiary of Implats, being charged with alleged contraventions of certain regulations issued in terms of the provisions of the Disaster Management Act 57 of 2002.
Munroe appeared in the Bafokeng Magistrates Court in a representative capacity on behalf of Impala Platinum Limited and the matter has been postponed for further investigation.
JSE-listed Implats said in a stock exchange news service announcement the company and its subsidiaries fully support the measures put in place by the South African government, led by President Cyril Ramaphosa, to help slow the spread of the coronavirus.
"We continue to engage openly and regularly with all our key stakeholders," the company stated in a media release to Mining Weekly.
"Impala has to date, and continues to, undertake its operations in a legally compliant and responsible manner and will fully cooperate with all the relevant authorities in relation to this matter and look forward to see the matter through to conclusion in a conducive manner for all stakeholders," Implats stated.
The mine reportedly issued a notice to employees to return to work during the lockdown, saying it had been granted a departmental exemption to do so.
Subsequent to that, Mineral Resources and Energy Minister Gwede Mantashe announced amendments allowing all mines to operate at 50% of production capacity, subject to strict Covid-19 screening, testing, quarantining and hospitalisation regulations.
During the virtual media conference on the most recent amendments to the regulations of the Disaster Management Act 57 of 2002, the Minister referred to the Impala Rustenburg incident as being "more of an irritation than an issue".
Six thousand employees, representing about 20% of total employee levels, were reportedly recalled to work on Sunday but many were turned back at roadblocks.
Luzipo has now made a further call on the Department of Mineral Resources and Energy (DMRE) to investigate possible permit abuse.
"We expect the department to conduct such an investigation and act decisively against perpetrators, with a view of sending a strong message to everyone that permits are to be used strictly for the intended purpose and any deviation will not be tolerated," Luzipo stated in an emailed statement to Mining Weekly.
Minerals Council South Africa on Thursday welcomed the amendments to mining-related regulations, stating that they were "completely aligned with the letter and the spirit of the amendments insofar as they prioritise the health and safety of those employees returning to work, and in so doing, also protecting the health of their communities".
The council added that it had finalised a standard operating procedure (SOP), which encompassed all the DMRE's principles, to manage the phased build-up of mining operations, and the ongoing efforts to fight Covid-19 in the workplace and in communities. The council and organised labour had engaged on the SOP and there was broad alignment.
Given the mining sector's comprehensive healthcare infrastructure, the industry was well equipped to screen, test and manage virus positive employees; prevent infection and manage the sanitising of work areas and transport; help with quarantine and health care facilities; provide proper personal protective equipment and enable physical distancing.
Conditions applying to starting and increasing capacity are:
rigorous screening and testing of employees returning to work;
provision of quarantine facilities for employees who have tested positive for the Covid-19;
submission to the relevant authority of data collected during the screening and testing programme;
arrangements to transport South African employees from their homes to their respective areas of operations; and
only recalling workers from Southern African Development Community countries at the end of lockdown in their respective countries.