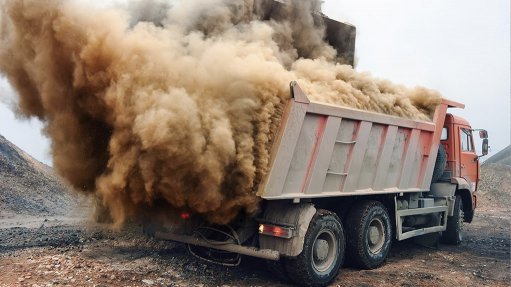 DIRTY DEALINGS Illegal sand and aggregate mining threatens the financial sustainability of legal operations
Statistics released by the Department of Mineral Resources and Energy (DMRE) inaccurately reflect the volume of illegal mining operations in South Africa, says mining industry body Aspasa (formerly Aggregate and Sand Producers of Southern Africa).
Aspasa claims the number of illegal operations are unknown by the DMRE and the numbers reflected are about 50% less than the actual statistics for illegal sand and aggregate mining operations – a consequence of the DMRE not tracking these operations. Despite numerous corporations reporting locations of illegal mines and Aspasa pleading with government to take the necessary action in shutting down illegal opencast sand and aggregate mines, there has been no visible action taken.
The extraction or removal of sand and aggregate from their natural state is classified by the Mineral and Petroleum Resources Development Act as a mining operation and, owing to sand's classification as a mineral, it remains a possession of the State.
"The crime of stealing sand from our beaches, riverbeds and highjacked opencast sand mines is regarded as a soft crime by many authorities, and the inaction of law enforcers to shut down such illegal mining operations only serves to strengthen this perception," says Aspasa director Nico Pienaar.
He emphasises that the exponential growth in illegal sand operations threatens the financial sustainability of legal sand and aggregate mines, owing to "unfair competition and collusion". Legal operations strictly comply to the South African Bureau of Standards (SABS) as well as the standards determined by project and construction companies.
Licensed mines pay taxes and royalties and with the authorities "turning a blind eye", legal sand mines are struggling to compete.
A lack of legal enforcement or prosecution has enabled many illegal mines to continue nonconforming practices that violate many regulations, including the Mine Health and Safety Act (MHSA), Pienaar tells Mining Weekly.
"If legal, licensed mines don't comply with the MHSA, an inspector issues a Section 54 stoppage, during which time the mine or a part of the operation is temporarily shut down, impeding production and affecting profitability. However, illegal miners completely disregard this Act and their activities continue uninterrupted."
Pienaar argues that this is a human rights violation and a violation of the Basic Conditions of Employment Act. Allowing this to continue is condoning exploitation, he adds.
"Aspasa's plan to initiate the shutdown of illegal operations has been to address government directly. A few months ago, I wrote to the DMRE, their response was dismissive and I was told to report the issue to the South African Police Service (SAPS).
"When the SAPS was unresponsive, I wrote to President Cyril Ramaphosa. I was asked to redirect that letter to Minerals and Energy Minister Gwede Mantashe, and I've yet to receive a response," Pienaar recalls.
Added Consequences of Enforcement Disparities
The National Mine Closure Strategy, gazetted on May 21, 2021, aims to manage mine closure in an integrated and sustainable manner.
It highlights the importance of ensuring that mines do not impact negatively on the livelihood of adjacent or interconnected mines in a demarcated area. Illegal mines compromise these objectives, says Pienaar.
Further, illegal sand operations cause additional challenges, even when they have ceased, such as large and unrehabilitated burrow pits.
This is an example of how illegal activities create safety risks for the public, with Pienaar noting, for example, that if the pit fills with water, there is added danger that children and animals may drown.
Pits left open by illegal operations also create an opportunity for illegal dumping.
Pienaar adds that companies and municipalities are guilty of buying illegal minerals for construction, mixing concrete and other purposes for building.
"The issue that arises is that the sand or aggregate product has not undergone inspection in a material quality control process or been approved by the SABS. This has resulted in infrastructure failures, such as bridges collapsing, and, sometimes, fatalities," he concludes.