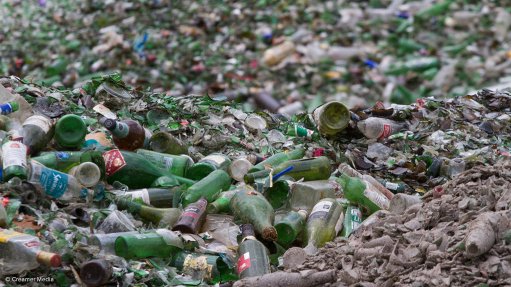 WASTE AND RECYCLING IFAT Africa will focus on waste management and recycling for sub-Saharan Africa
Photo by: Creamer Media
IFAT Africa, a trade fair for water, sewage, refuse and recycling, will have a broader scope this year, as the event is co-located for the first time with food & drink technology Africa (fdt Africa) and analytica Lab Africa.
Presented by international exhibition organiser Messe München, IFAT Africa is part of the IFAT worldwide series, bringing together public and private-sector stakeholders and exhibitors engaged in water, sewage, refuse and recycling.
Covering product categories, including water extraction and treatment, sewage treatment, water distribution and sewers, refuse disposal and recycling, decontamination treatment, measuring, control and laboratory technology, and environmental services, IFAT Africa's scope is now broadened through its co-location with fdt Africa and analytica Lab Africa.
Up to 6 000 visitors will be able to explore solutions relevant across all three sectors, including water-related technologies and waste management solutions, food and drink technologies and lab and analysis technologies.
Waste Management Solutions
In the coming 30 years, the population in Africa is predicted to double to about 2.5-billion people. The continent's environmental problems will therefore further increase. Adequate waste treatment and disposal are a top priority.

In many African countries, the waste disposal situation is precarious. According to a report of the United Nations agency the Environment Programme (UNEP), African municipalities on average only collect about 55% of the waste. More than 90% of the waste generated on the continent is dumped in an uncontrolled manner and, moreover, is often burned openly. Nineteen of the world's 50 largest landfills are located in sub-Saharan Africa.

Although an informal recycling system has been established in some places, this system only concentrates on certain recyclables. The authors of the UNEP report estimate that 70% to 80% of the municipal waste in Africa could be recyclable. "Currently, the recycling rate is about 4% only," says the Council for Scientific and Industrial Research's Waste Research, Development and Innovation Roadmap Implementation Unit manager and UNEP report coordinating lead author Professor Linda Godfrey. "If, however, uncontrolled dumping is replaced by the diversion of waste into reuse, recycling and recovery, this could unlock at least $8-billion in resource value into the African economy every year."

The World Bank has observed that waste management in the 48 nations of the sub-Saharan region is experiencing a perceptible growth and modernisation surge, focusing on the construction of modern landfills, on the expansion toward an institutionalised, comprehensive waste collection and on environmental education measures for the population.

The costs of improving waste management in the sub-Saharan region remain a central challenge. According to UNEP, governments are increasingly looking for innovative finance solutions. Budgetary reform in Senegal, for example, among other things, seeks to generate resources for waste services. The biennial exhibition will be held at the Gallagher Convention Centre, in Johannesburg, from July 9 to 11

.