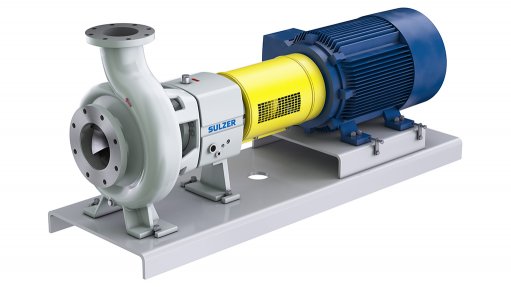 Sulzer's IEC- motor-compatible pump
Sulzer has recently unveiled an International Electrotechnical Commission- (IEC-) motor-compatible pump range, following on its energy-efficient CPE American National Standards Institute, or ANSI, centrifugal pump range launched a few years ago,
The CPE process pump is designed for a variety of industrial applications, such as clean or slightly contaminated liquids, viscous liquids, and fibrous slurries. It meets the American Society of Mechanical Engineers requirements, ASME B73.1, applied to chemical processes. A heating jacket option is also available for applications that require a specific temperature to enable smooth pumping operation.
The company extended its pumps range as a response to the increasing demand for CPE pumps. The CPE IEC compatible range features IEC motors, base plates, and couplings. The CPE pumps are manufactured in the US, Finland and China, offering global availability.
The CPE pump with an IEC motor is particularly useful when there is a need for a process pump with higher pressure or temperature than that achieved by an ISO5199 pump. It offers the highest efficiency in the ANSI pumps market and leads to savings in the total cost of ownership and a reduced environmental footprint.
"We are happy that we can also offer the CPE pump in countries where IEC motors are required. This pump is the best fit for a wide range of industrial applications and a welcome addition to our process pump portfolio," says Sulzer head of sales Jouni Lehtinen.