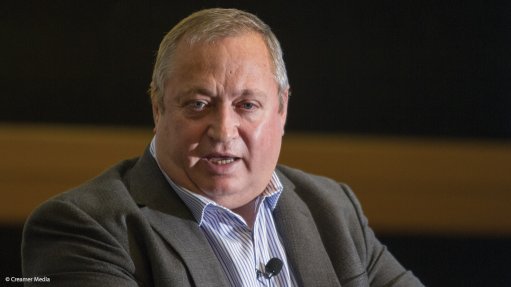 Sibanye-Stillwater CEO Neal Froneman
Photo by: Creamer Media
CAPE TOWN (miningweekly.com) – Even though society had begun to move towards battery electric vehicles, hydrogen fuel cell technology would be the real disrupter of the electric vehicle market, Sibanye-Stillwater CEO Neal Froneman predicted on Tuesday.
Sibanye-Stillwater is the world's largest primary producer of platinum, which is a key ingredient of fuel cells.
In a main stage address to the 2020 Investing in African Mining Indaba, Froneman described fuel cell technology as being "not too far away".
"Car producers are already producing cars with fuel cells and fuel cells are going to be an important part of the Olympic Games in Japan. We just saw that U2 had a concert that was powered by fuel cells. Fuel cells are going to be the real disruptive technology and I'm talking about the hydrogen economy," he said.
Sibanye-Stillwater is also the second largest primary producer of palladium and the third largest producer of gold (on a gold-equivalent basis), as well as a significant producer of rhodium. It is also the leading global recycler and processor of spent platinum group metals (PGMs) catalytic converter materials.
A week ago, the company achieved seven-million fatality-free shifts, which is unparalleled in the South African deep-level gold-mining industry and indicates going 500 days without a fatality.
"It is far safer underground in a deep-level gold mine in our company than it is driving on the road and we'll continue to push the boundaries," he said.
Froneman described PGMs as an integral part of positively influencing climate change.
"If you look at their primary uses in the automotive industry, they clean up the air by curtailing emissions. In terms of renewable energy, they play a key role. We are as a company very focused on the environment," he said.
The Stillwater operations in the US are on the border of the Yellowstone National Park.
"You cannot imagine a more sensitive area to conduct mining operations. Mining operations are conducted there very successfully with the full support of the landowners in that area and, of course, all the regulators," he said.
In terms of a good neighbours' agreement, landowners are entitled to attend mine meetings.
"There is complete transparency," he said.
Although the agreement might not be applicable to South Africa environmentally, part of the problems experienced with local communities stemmed from a lack of full understanding and full engagement with companies.
As one of the world's biggest PGM recyclers, Stillwater recycled about 700 000 oz, which was an important part of being environment-friendly.
"We intend to take some of these concepts, implement them in South Africa and contribute positively to the mitigation of climate change," he said.
"Our investment in DRD was a smart investment. We are dealing with a lot of legacy issues in South Africa, especially on the environmental side and we have a significant number of tailings dams that are impacting on our subterranean water.
"DRD is a company that retreats these tailings dams and improves the environment, and that is a really good company to be associated with.
"We hope to expand DRD's operations into the PGMs sector, into other minerals and internationally. In fact, our US operations have already asked if DRD would come and look at a potential opportunity in our Stillwater operations," Froneman said in his speech covered by Mining Weekly.