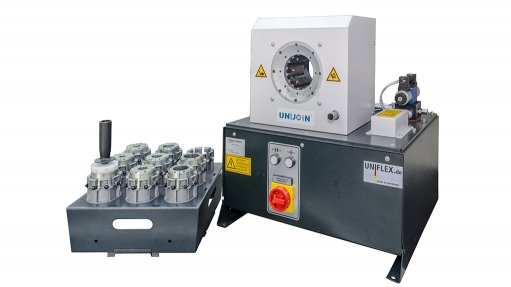 FLEX THOSE MUSCLES The Uniflex grease crimper will take center stage at the HAW stand this year
Hydraulic component distributor Hydraulic and Automation Warehouse (HAW), a Bosch Rexroth South Africa Group Company, will showcase eight of its niche product lines at this year's Grain SA NAMPO Harvest Day.
HAW's focus will be on hose assembly solutions manufacturer Uniflex's grease crimpers – specifically the Uniflex UG20 – as well as hydraulic engineering company Salami's gear pumps and valve banks.
The company will also highlight hydraulic orbital motor manufacturer M+S's gerolor and gerotor motors and M+S's steering orbitals as well as tie-rod cylinders.
Other products in the line-up include hose and fittings manufacturer Intertraco's range of products, high pressure filter supplier OMT's filters as well as valves supplier LuEn's in-line components.
"Interacting with Free State-based resellers and distributors is the highlight of this yearly event for us. It is the stage where we connect with existing customers to promote new products and technologies, and introduce our products, technologies and brands to potential new customers," says HAW GM Werner Joubert.
He says HAW has the technologies, quality products and industry expertise to provide application-specific, cost-effective hydraulic solutions that can enhance agricultural equipment and machinery. HAW hopes to use the NAMPO opportunity to demonstrate its commitment to agricultural equipment original-equipment manufacturers, and to get customer feedback and suggestions for exploring new technologies.
"We're looking forward to seeing how HAW will be able to meet any new requirements identified by our target market," Joubert concludes.