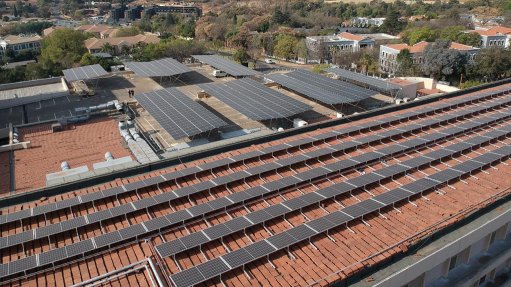 Hyde Park Corner solar panel project
Shopping centre Hyde Park Corner has installed a 384 kW solar photovoltaic (PV) system on its two office block roofs and carports on the North Eastern parking deck to lower its carbon footprint.
The system, rolled out by specialist solar PV company Solareff, comprises 900 430 W half cut Mono Percium panels.
These panels are currently the most commercially efficient panels available, the mall's holding company, real estate investment trust Hyprop says in a statement.
The panels will generate about 674 400 kWh/y of electricity, translating into savings of about 701.4 t/y of carbon emissions.
Further, about 5.38% of the total yearly energy requirements at the centre are now produced from renewable resources.
"As part of Hyprop's drive to continually minimise the impact on the environment, one of our key focus areas is to reduce the consumption of natural resources where possible.
"The installation of solar, a renewable energy source, is only part of our drive towards positive change in creating safe environments and spaces where people can connect and be part of a community. At completion, six of our nine malls will be making use of solar power," says Hyprop CEO Morné Wilken.
"This roll-out of solar panels will also mitigate the risk of continuous, rising electricity costs for the company. The electrical power generated by the solar system is fed back into the centre grid and consumed in total," adds Hyprop GM Jacqui McGeehan.