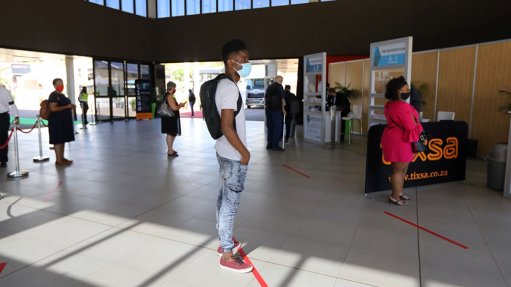 RESTARTING THE INDUSTRY Innovation in the industry will see a roll-out of hybrid events, mixing the onsite experience with digital services and products
Innovation in the exhibitions, events and conferencing industry will result in a roll-out of hybrid events this year, says local exhibition company Specialised Exhibitions – a division of Montgomery Group — portfolio director Charlene Hefer.
This involves a "blend of the on-site experience with digital services and products, created to suit individual events".
She points out that the industry has been embracing digital technologies for the past ten years.
"Smartphones have changed our industry and the way we deliver shows by putting digital services, exhibitor catalogues, matchmaking tools and more into the hands of people on a show floor."
While digital technologies and hybrid events will enable the sector to survive and innovate, Hefer emphasises that face-to-face interaction and networking are "still vital" for the sector.
The face-to-face format of organised events generates sales leads for exhibitors and enables them to demonstrate their capabilities. It is also an opportunity for exhibitors to meet large clients and potential new customers, she highlights.
"Local government needs to recognise the exhibitions, events and conferencing industry as organised events that are vital for economic recovery," she highlights.
Such events, Hefer notes, are needed to drive the economic recovery after Covid-19, especially for small and medium-sized enterprises: "They represent the backbone of every economy, and face-to-face events are a leading sales channel for them".
She points out that the Global Association of the Exhibition Industry (UFI) is tracking how markets are reopening, and that it is encouraging to see authorities agreeing to exhibitions taking place.
"Accepting that exhibitions are not mass gatherings, some governments globally have classified them under organised business events. This provides confidence for the industry and people planning to attend, as well as security for companies that are eager to return to the exhibition floor.
"However, it is likely that some events will not be as big as they were initially, with potentially fewer participants. We will need to rebuild the sector, with regional growth first, national growth and then global growth as travel continues to open up internationally," Hefer explains.
Restart Expo
Specialised Exhibitions hosted the Restart Expo from November 25 to 26 at the Johannesburg Expo Centre in Nasrec last year. The expo was a joint initiative between Specialised Exhibitions and the Johannesburg Expo Centre on behalf of the South African exhibitions and events industry.
The expo demonstrated that physical business events, conferences and trade shows can successfully take place with required Covid-19 protocols in place, Hefer argues.
Such protocols included online registration, using face masks and hand sanitisers, having a designated entrance with controlled entry and exit points, temperature screening at the entrance, physical distancing, using a real-time counting system to ensure adherence to the rule of having a maximum of 250 people allowed in a confined space, the regular cleaning of floors and chairs, as well as having Covid-19 officers stationed throughout the venue.
The event was not held on a commercial basis but was rather supported by the "entire ecosystem" that comprises the industry, says Hefer. Participation was at the individual cost of each participant and exhibitors did not pay for stand space.
Up to 40 industry-related exhibitors engaged with government officials, members of nongovernmental organisations, industry associations, business representatives, media and industry colleagues.
The event registered 926 online registrations and 678 total visitor attendees. The live- streaming component of the event featured 278 attendees, with 655 additional Facebook views.
Hefer enthuses that the success of the event can also be measured by the endorsements it received.
Further, in supporting the business events sector, local body the Gauteng Conventions and Events Bureau partnered with the Restart Expo.
The event was also endorsed by industry bodies the Association of African Exhibition Organisers and the South African Events Council, which collaborates with 14 different event associations. The event also had the support and active involvement of UFI.
After the event, a dossier was provided for government, providing detail of a proven working model. The dossier also requests the recognition of organised events and the lifting of venue-capacity restrictions, as well as the reopening of the exhibitions, events and conferencing industry in South Africa with Covid-19 protocols in place.
The industry is waiting for feedback from government.