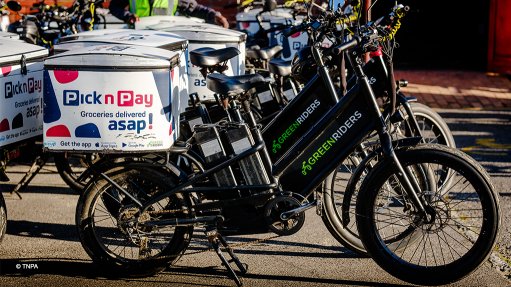 A hundred newly trained electric bike (e-bike) riders from the communities of Joe Slovo and Phoenix, in Cape Town, have graduated from the Green Riders Academy.
Green Riders is a turnkey mobility company, operating a fleet of electric delivery bicycles. The 18-month-old company has clinched fleet partnership deals with a number of aggregators, such as Mr D (Takealot), Bolt Food, UberEATS, Pick n Pay, as well as online fashion platform Bash.
Riders within the group have the opportunity to own their delivery e-bikes, through a two-year rent-to-own scheme.
Green Riders says it aims to create 50 000 job opportunities for previously disadvantaged young South Africans over the next five years, while also spearheading the greening of the last-mile delivery sector by converting it from "costly motorbikes" to cost-effective, eco-friendly e-bikes.
"Green Riders will transform the face of micro-mobility in South Africa," says Green Riders executive chairperson Richard Clarke.
"We will employ thousands of young South African men and women over the next few years, substantially improving their lives – enabling them to support their families and contribute meaningfully to their communities.
"We are grateful to Absa, the Jobs Fund and Harambee Youth Employment Accelerator for their support in enabling us to train and transition over 1 000 youth in 2023 during our pilot phase for this ambitious project."
The Green Riders Academy training programme is a 12-week course that combines classroom-style learning with practical experience.

It is designed to equip young people with the skills to become professional delivery riders.
The curriculum covers a range of disciplines, including e-bike handling and road safety, customer etiquette and sales, communication, navigation, food hygiene and aggregator app usage.
Graduates of this programme should master the art of efficient last-mile delivery, "enabling them to become sought-after professionals in this fast-growing industry", says Green Riders.
Looking ahead, the company says it has forged new partnerships with Youth Employment Service, Hollard Insurance and the Ford Motor Company to support riders with a 12-month work experience programme to ensure that they receive financial support during their first year as new delivery operators.
In addition, the Green Riders team will collaborate with Pick n Pay on a pilot programme to enable riders to earn passive income through revenue from advertising on their e-bike delivery boxes.