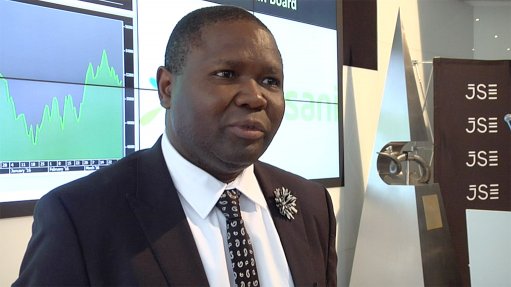 Hulisani CEO Mlungelo Zilimbola
Newly established renewable energy special-purpose acquisition (Spac) company Hulisani on Thursday listed on the main board of the Johannesburg Stock Exchange (JSE), taking advantage of investor demand for energy assets in South Africa and Africa.
Hulisani CEO Mlungelo Zilimbola highlighted that the formation of the company was prompted by a need to address the poor economic growth of South Africa, which he said was "constrained by the energy capacity of the country".
He told Engineering News Online that Hulisani believed energy was "the life blood of the economy" and that South Africa would not experience economic growth without investment into improving its energy capacity.
Zilimbola added that the company was dedicated to contributing to improving capacity constraints by investing in renewable-energy projects.
However, he asserted that Hulisani would not only focus on addressing South Africa's energy constraint challenges but would look to contribute to developing the continent.
It would achieve this through job creation, economic development and greater economic participation by previously disadvantaged communities, which Zilimbola suggested could be resolved though the development of renewable energy projects across Africa.
"For us it is about sustainability, economic participation, as well as economic growth and development."
Zilimbola noted that Hulisani currently had a project pipeline of about R2.5-billion across Africa.
He estimated that the company would announce its first renewable-energy investment in the next two months.
Meanwhile, he congratulated the Department of Energy's Renewable Energy Independent Power Producer Procurement Programme, which he said was "lauded as the best in the world" and could be used to address other infrastructure challenges faced by South Africa, such as water, roads and housing.
"We are excited that, as the private sector, we are getting involved and doing our bit and we are happy that government has done such a brilliant job in putting together this framework."
The share capital of Hulisani would comprise one-million authorised but unissued shares and around 50-million issued shares at R10 a share.
Hulisani was granted a listing by the JSE by private placement to raise R500-million to qualify for a listing as a Spac to pursue the acquisition of viable assets in terms of the listings requirements.