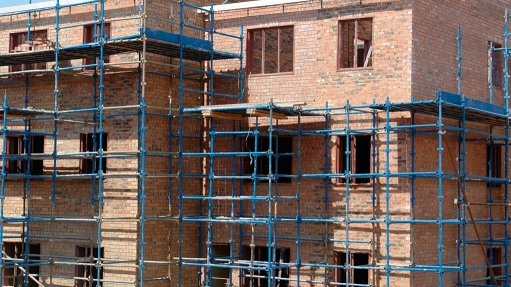 PRINCESS PLOT VILLAGE, ROODEPOORT The Princess Plot Show Village will be bricked solely with clay stock bricks by Ocon Brick
The Princess Plot Show Village – the first of six phases to be built at the proclaimed Princess Extension 22 township in Roodepoort – will be bricked solely with clay stock bricks by brick manufacturer Ocon Brick, a subsidiary of the Infrastructure Specialist Group (IS Group).
The development will comprise a combination of housing types, including those specified by governmental programme the Reconstruction and Development Programme's requirement for multistorey rental units and semi-detached bonded houses, as well as a sportsfield, businesses, a church, a crèche, a primary school and a multipurpose centre. Construction is being undertaken by construction company Group Five Housing.
The 'Show Village' phase, which began in August 2014, is part of a joint housing initiative by the Gauteng Department of Human Settlements and the City of Johannesburg, and is expected to be completed by May 2016.
"This area, previously an informal settlement, will house 281 residential units. Owing to the limited land space, these units will be multistorey apartments totalling about 3 607 flats," says Group Five Housing site agent Johan Human.
Ocon Brick has been contracted to supply 3-million clay stock bricks for this project, 648 000 of which have been delivered to date.
"This is the first time I have worked with Ocon Brick, and I have been impressed with the company's delivery reliability, which, on a project of this nature, is critical to our being able to organise that the secure storage of the bricks is aligned with their delivery. Additionally, being a government-funded project, Ocon Brick offered us the best pricing for a quality product," says Human.
Ocon Brick regional sales manager Mariana Lamont says government-funded projects always seek the best pricing structures possible, adding that Ocon Brick ensures that it will consistently offer a cost competitive product, coupled with good quality and durability.
Ocon Brick can produce over a million fire-resistant clay bricks a day. These bricks offer low water-absorption properties, superior thermal insulation and a low carbon footprint.
The benefits of clay stock bricks include their long life span – which is in excess of 100 years – their durability, low maintenance, fire resistance (clay stock bricks have the maximum fire rating as they are incombustible) and their availability, owing to Ocon Brick's large stock holding.
Further, because Ocon Brick mines the raw materials required to make the bricks and manufactures the bricks on the same site, the product's overall carbon footprint decreases, as minimal transport is required from the mine to the plant.
Ocon Brick Takes Top Honours
In April, Ocon Brick was awarded its seventh PMR Gold Arrow Award for superior service in the brick supplier category at a banquet held in Johannesburg.
Lamont notes that Ocon Brick prides itself on "going the extra mile" to ensure that the requirements of its customers in the construction industry are serviced in the most professional, ethical and reliable manner and that the company's manufacturing and service delivery operations are competitive and of a superior standard.
"This is what our reputation has been built on over the years and receiving this seventh PMR award is testament to our efforts – we are exceptionally delighted to receive this recognition from PMR," says Lamont.
IS Group CEO Albert Weber says one of Ocon Brick's strengths is its high manufacturing capability, enabling it to meet its client requirements. "We have a great team at Ocon Brick who have put in a great deal of effort and focus to achieve this seventh PMR award. An interesting point is that these PMR awards are awarded from a national survey and Ocon Brick has consistently been chosen as supplier of choice, even though we are only based in Gauteng," he adds.
Lamont tells Engineering News that this year's PMR Gold Arrow Award is a reflection of Ocon Brick's excellence in product range and quality; pricing; environment-friendly solutions and sustainable development practices; reliable delivery and customer service.
She adds that Ocon Brick's sales and marketing teams, in conjunction with its operational personnel, are the real engine-rooms behind this seventh PMR award. "It is their effort and dedication that has enabled Ocon Brick to continue on its award-winning pathway. This PMR Gold Arrow Award is a tribute to them and their quest for impeccable service delivery."
The yearly PMR awards aim to enhance excellence and set benchmarks in different industries. The awards are a culmination of independent research undertaken through a random sample of industry retailers and construction company representatives who took note of the performance of brick manufacturers and formwork as well as scaffolding suppliers.
Meanwhile, Ocon Brick was recently commissioned for projects including Kusile power station, upmarket townhouse and office park developments in Rivonia, north of Johannesburg and student accommodation developments in Doornfontein, central Johannesburg.