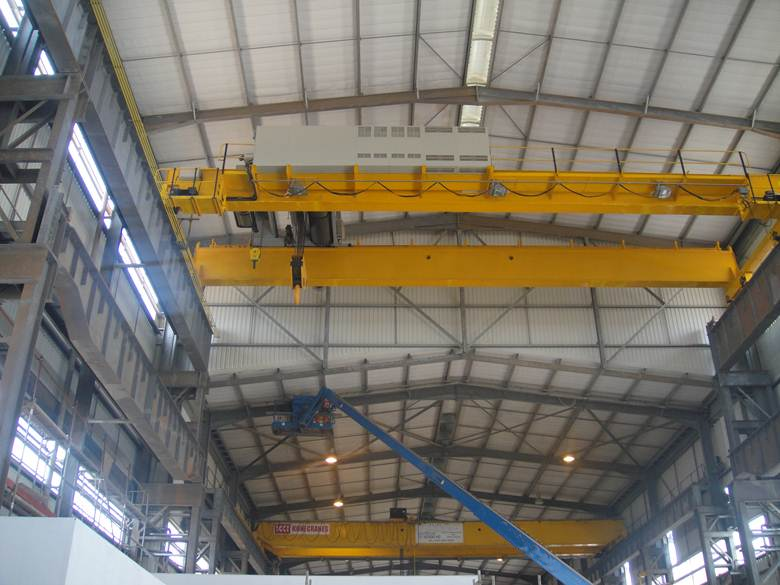 HYBRID REACH STACKER The SMV 4531 TB5 HLT cuts fuel consumption and emissions by 30%
AR13-million contract to supply oil company Sonils Oil & Gas with a variety of cranes for its operations, in Luanda, Angola, was awarded to crane manufacturing and crane and hoist service company Konecranes Southern Africa.
This brings the total number of cranes that have been supplied by Konecranes to Sonils' Luanda port facility to 122, says Konecranes Southern Africa sales and marketing director John MacDonald.
"The most recent additions will include ten overhead cranes, including a 100 t overhead crane, and twenty 5 t overhead cranes and Jib cranes, which will be delivered next month," he states.
MacDonald adds that the cranes will offer a full range of services to the only deep-water service centre in Angola, with a 12.5 m water depth.
"FMC Technologies [a technology solutions provider for the energy industry] at Sonils Oilfield Service Center assembles oil-well valves that weigh about 80 t each and the utmost care has to be taken in lifting these very heavy structures. Therefore, great precision is required to assemble these structures," he notes.
MacDonald adds that Konecranes has special equipment, manufactured in Finland, built into their cranes that assists with extreme heavy-lifting sway-control technology, inching, microspeed, slack load prevention and slack rope protection, as well as target and end-range position.
"The hoists and carriages are imported from Finland and the bridge structure, which consists of two bridge girders, is assembled locally at our factory in Alrode, Alberton. The hoists are made from steel plates and webs that are welded together to form a box profile," he states.
Meanwhile, Konecranes Southern Africa received an order for two ship-to-shore cranes from container and general cargo operator Cornelder de Mocambique (CdM), which will be delivered to the Port of Beira, in Mozambique, later this year.
MacDonald adds that the ship-to-shore cranes have an outreach of 40 m and a lifting capacity of 65 t under spreader. The cranes are designed to handle twin-lift operation and will be delivered fully erected to the terminal.
"The cranes are equipped with remote- access technology, enabling remote diagnostics, which also includes related in-depth expertise and maintenance services that are available from Konecranes," he says.
MacDonald highlights that each crane will also be wirelessly connected to the maintenance office to enable monitoring and accurate and fast troubleshooting.
"The cranes are equipped with Konecranes' remote management system and will operate in the port's container terminal. CdM manages the multipurpose container and general cargo terminals at the Port of Beira and is aggressively investing in additional infrastructure and machinery to cope with the expected regional growth.
He says that Konecranes' shore-to-shore cranes will increase the terminal's capacity to 500 000 t.
"This will ensure that CdM and the Port of Beira continue to be a main gateway to and from the world for countries such as the Democratic Republic of Congo, Malawi, Mozambique, Zambia, Zimbabwe and Botswana," states CdM executive MD Carlos Mesquita.
Meanwhile, Konecranes also delivered ten Konecranes rubber-tyred gantry cranes to Ports and Cargo Handing Services (PHCS) in Lagos, Nigeria, at the end of last year.
"PHCS is the port operations arm of Nigerian maritime company Sifax Group and is a major player in port operations and related services on the West African coast," notes MacDonald, adding that the cranes were delivered on schedule to the company's terminal at Tin Can Island port.
"The cranes are equipped with Konecranes' cabin offering, which provides improved ergonomics and visibility and increases the number of cranes in operation in West Africa," he states.
The cranes are also equipped with the latest technology, such as an automatic steering feature for container yards.
"This keeps the crane on a preprogrammed, straight driving path, improving safety and increasing productivity. The crane container positioning system is connected to the port's terminal operating system, ensuring correct, real-time container positioning and accurate inventory. The fully electric, 16-wheel cranes have a lifting capacity of 50 t, stacking one-over-five containers high and a seven-plus truck-lanewide capa- city," he says.
Hybrid Reach Stacker
Konecranes recently launched its first hybrid reach stacker, SMV 4531 TB5 HLT, which has a lifting capacity of 45 t, for container handling.
"It features a hybrid diesel-electric driveline, an electrified hydraulic-lifting system and super capacitor-based energy storage," says Konecranes VP and lift trucks business unit head Lars Fredin.
He states that the reach stacker will cut fuel consumption and emissions by 30%, while offering improved performance, acceleration and response to a driver's commands.
"The fuel consumption saving is achieved by electrifying all flows of energy across the driveline, the hydraulic-lifting system and the energy-storage system.
"Propulsion and lifting are powered by dedicated electric motors that can all operate in regenerative modes. The energy generated from braking and load lowering is recovered and stored for later use," says Fredin, adding that this results in a substantial reduction in diesel consumption and environmental impact.
Meanwhile, productivity is increased in terms of quicker response and higher acceleration, says Konecranes lift trucks technical director Anders Nilsson.
"Potentially, the diesel engine of the hybrid reach stacker can be replaced by an alternative source of electrical energy. Such examples include fuel cells or an energy storage that can be recharged by connecting to a power grid," he explains.
In a conventional reach stacker, the driveline is a diesel or mechanical system, consisting of a diesel engine, a torque converter and a transmission, states Nilsson.
"The diesel engine produces the energy for propulsion. The flow of energy is mechani- cal and a complex mechanical gearbox is required. The energy generated by braking is converted into heat that is dissipated and wasted as a result.
"In the new Konecranes hybrid reach stacker, the driveline is a serial configured diesel-electric system, consisting of a diesel engine, an electrical generator and an electrical traction motor," he explains.
In a conventional reach stacker, the diesel engine mechanically drives variable-displacement piston pumps that provide the hydraulic energy for lifting and steering.
As with breaking, the energy that is generated when a load is lifted is dissipated and wasted.
"In the hybrid reach stacker, the hydraulic pumps are electrically driven and electronically controlled. Dedicated electric motors drive the pumps that provide the hydraulic energy for lifting and steering. The speed of these pumps can be con- trolled independently from the diesel- engine speed.
"More importantly, the return flow from the hydraulic cylinders is not converted into heat, but fed backwards through the pumps, which now act as hydraulic motors, thus regenerating electrical energy," he concludes.