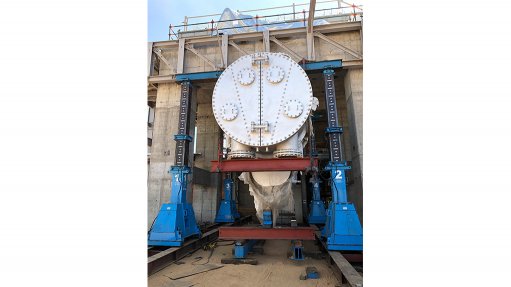 CONDENSED POWER A condenser lift supplied by Lovemore Bros using its hydraulic gantry
Heavy lifting and rigging specialist Lovemore Bros added four new trucks from global truck manufacturer Volvo to its heavy lifting and materials handling fleet.
Lovemore Bros heavy rigging manager Shane Hawyes says the benefit of the acquisition is threefold.
Firstly, the Volvo trucks offer better fuel efficiency rates, consequently enabling Lovemore Bros to charge clients less for its logistical solutions.
Secondly, Volvo trucks are reputed for lower carbon emissions than other vehicles of the same size and capacity.
"And finally, the new trucks enable the company to lift heavier loads for clients in the energy management and production sectors," Hawyes enthuses.
The four trucks were all retrofitted with knuckle boom cranes, which are designed to be lightweight and highly manoeuvrable while handling heavy loads.
He adds that Lovemore Bros used one of the retrofitted trucks to assist with the heavy lifts and installation of a biomass boiler and turbine in Ngodwana, Mpumalanga.
"We used our crane trucks and knuckle boom cranes fitted to our Volvo trucks, as well as a hydraulic gantry, to lift some of the heavy items, rather than a big mobile crane."
Traditionally, suppliers have used big heavy cranes with large diesel engines, that require several trucks to move the counterweights and accessories to site, compounding carbon emissions.
However, Lovemore Bros uses high tech, energy efficient hydraulic gantries, which run on modular tracks and are extremely versatile self-powered units.
Hawyes adds that Lovemore Bros boasts three of these hydraulic boom gantry systems – 226 t, 318 t and 400 t.
Another available resource are Lovemore Bros Strand Jacks for heavy lifting, which are used in space restricted areas or where continuous lifting operations are required. The total load capacity of the Strand Jack system is 480 t, and it are easier to transport than larger, more cumbersome equipment, consequently lowering carbon emissions during transport.
Further efficiencies are gained, owing to the equipment's using modern, energy efficient electric power packs, he points out.
Lovemore Bros aims to improve efficiencies at its offices countrywide and is investigating the introduction of hybrid vehicles for sales staff, Hawyes concludes.