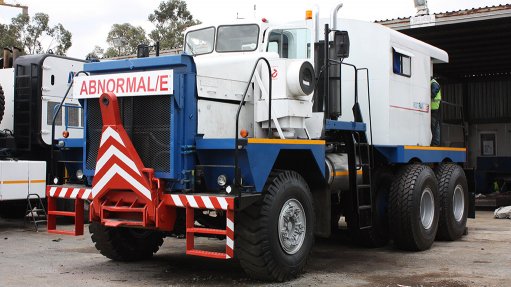 BACK FROM THE DEAD The expected life span of the Pacific trucks was 25 years, but a rebuild extended its life span a further ten years
South Africa's growth and development rely significantly on services and solutions from the heavy-hauling industry, State-owned power utility Eskom subsidiary Rotek and Roshcon head of multi-axles logistics services Dennis Child says.
"Eskom's power station expansion programme has contributed substantially to the growth of 40% of the heavy haulage fleet as it necessitated bigger and more sophisticated transport solutions than ever before," he says.
Rotran, currently known as Rotek and Roshcon Logistics Services, has also registered substantial growth in the last few years, with the stimulation by economic growth and infra- structure development in South Africa and other Southern Africa countries resulting in the expansion of its road fleet.
The subsidiary's road fleet has increased by 40% over the last seven years, with a R380-million investment in new vehicles.
Challenges
Rotek and Roshcon Logistics Services has to deliver on its mandate to Eskom and other companies within the 280 permitted operating days a year, including weekends.
This means the company can operate for only nine-and-a-half months a year, transporting 18 000 t of abnormal goods. There are other restrictions during this period, for example, the transportation of cargo is not permitted when it rains or when there is mist, and road upgrades force the company to use alternative routes, which cause delays in transporting cargo.
Moreover, truck combinations can only travel at 10 km/h for safety reasons and a traffic official must escort these combinations in a separate vehicle at any given time.
Trucks depart from the depot in Johannesburg and travel unladen to Richards Bay. From there, they collect cargo, transporting it to Lephalale, in Limpopo, before returning to Richards Bay to collect more cargo. This round trip of 3 000 km, costs the company up to R250 000 in permit fees and up to R2-million in fuel costs, as 195 000 ℓ of fuel per round trip are used.
Rotek and Roshcon Logistics Services also needs to ensure that its trucks meet the required safety standards and are equipped with the latest engineering technologies to improve efficiencies, such as fuel consumption and electronic engine management. As expensive cargo is transported, a control room, at the Johannesburg depot, monitors truck movements in real time, with satellite tracking being used for security purposes.
"We also ensure that we maintain good relations with the communities in which we operate," Child says, adding that good rela- tions with communities and other key stakeholders go a long way towards ensuring that goods are delivered on time.
"By communicating with communities through various media platforms, including local newspapers and radio stations, they become more receptive and understanding. They often share the message to alert other road users through social media platforms like Facebook and Twitter, of when the abnormal trucks will be on certain roads."
Road Giants
Purpose-hand-built low-volume abnormal-load tractors, capable of towing excessively heavy loads, were chosen as part of the complement of vehicles to transport power station components from ports and manufacturing plants to the newly built Medupi and Kusile power stations, in Limpopo and Mpumalanga respectively.
In 2005, Rotran bought four tractors of the Nicolas Tractomas D100 series, capable of towing 1 000 t each, to use for road hauling.
The French-manufactured D100 is classified as the world's largest on-highway tractor, according to the Guinness World Records 2005. Each of its five axles is powered, providing enormous tractive effort, with ten-wheel drive. A power-shift gearbox and torque convertor aid in shifting gears and in pulling away from a stationary position.
These trucks are powered by a diesel V12 Caterpillar 3712C-series turbocharged engine, with a capacity of 27.3 ℓ.
Eighteen additional Nicolas Tractomas D75 8 × 8 models – which are similar to the D100 models, except for each model having four axles (8 × 8) – were also bought. Three units produce 559 kW and 15 units produce 709 kW.
The vehicles Rotek and Roshcon use are fitted with living quarters, owing to weeks-long journeys across South Africa. "These vehicles travel from Johannesburg, in Gauteng, to Richards Bay, in KwaZulu-Natal, in three weeks, and from Richards Bay to Lephalale, in Limpopo, in five weeks, with the return trip taking another five weeks," Child explains. "It was always the preferred option to let the drivers sleep in the vehicles."
Other models of heavy-haulage trucks completing Rotek and Roshcon's range include three MAN 40.502 series, two MAN 40.700 6 × 6 series, two Mercedes-Benz 3850 6 × 6 series, eight Pacific P12W3 series and six Western Star XD6900 8X6 series trucks.
With numerous years of proven reliability, eight of the older-generation Pacific and Ultra Pacific trucks were rebuilt by Rotek and Roshcon.
"The expected life span of the Pacific trucks was 25 years, but we have rebuilt them to last another ten years," says Child. These vehicles have covered more than one-million kilometres and are due to be decommissioned next year, depending on current workload.
Owing to either a shortage or the non- availability of spare parts, Rotek and Roshcon employed the technique of reverse engineering to produce parts for the Pacific trucks.
"The company has grown in size and sophistication since the 1980s, when power station equipment and electricity industry infrastructure components were transported by the South African Railways and Harbours (SARH)," says Child.
Rosherville Vehicle Services was established as part of Eskom subsidiary Roshcon in 1993 to transport Eskom's large equipment, such as transformers, which required maintenance. This eventually overtook the services of SARH, as Eskom had completed construction of the Majuba power station, in Mpumalanga, which was the last power station to be built at the time.
Keeping up to Date
In an effort to keep the lights on, Eskom is investing billions of rand in building new power stations, subsequently increasing the demand for the transportation of abnormal loads.
South Africa's increasing energy needs over the last few years prompted Rotek and Roshcon Logistics Services to increase its fleet of 16 vehicles in 2006 – three beam trailers and three modules that it inherited from SARH – to 43 trucks and eight beam trailers with the capacity to haul loads from 200 t to 600 t.
Further, the company currently employs seven times more drivers, compared with the number of drivers who were employed from 1993 to 2007.
Rotek and Roshcon Logistics Services also trained new drivers, as the older generation of drivers will start retiring from the end of this year. "We have developed our new drivers using in-house training and will continue to do so for the next ten years," Child says.
As part of Eskom Enterprises, Rotek and Roshcon Logistics Services constantly reviews opportunities to develop people by providing them with skills to equip them for possible employment. In a bid to transfer skills to previously disadvantaged individuals, 30 unemployed people were given the opportunity to undergo training as professional drivers specialising in transporting abnormal loads.
Following 18 months of training, the company currently employs 25 of the participants. "We choose only the best skilled drivers, developed in-house, to operate our largest vehicles, given the high level of skill required," Child says, adding that driving abnormal-load vehicles can be regarded as a scarce skill in South Africa.