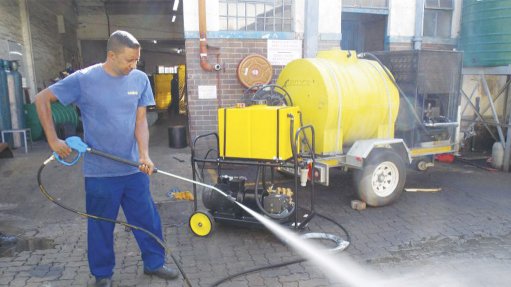 Hawk High Pressure Pumps specialises in industrial pumps and pumping systems. For over 40 years, the company has manufactured and distributed high-pressure cleaning equipment and accessories, road-marking equipment, safety showers, eyewash units, high-pressure pumps and airless spray-painting solutions.
Its high-pressure washing equipment is locally manufactured and designed to suit the tough South African market. In addition, machines can be custom-designed and built to suit specific requirements.
Hawk's drain and sewer cleaning equipment is in high demand. The company designs and manufactures trolley-mounted, trailer-mounted, skid-mounted and truck-mounted pressure washers and a wide range of speciality nozzles.
The high-pressure pumps feature ceramic plungers and self-lubricating seals and have a reputation for being reliable, long lasting, easy to use, easy to repair and inexpensive to operate.
A proudly South African company, all equipment is manufactured at Hawk's factory in Durban, KwaZulu-Natal, using only the best local products, where possible.
Highly respected Italian manufacturers, with a reputation for technological expertise and excellence, supply the core components for Hawk pumps.
Hawk products in South Africa are covered by a comprehensive guarantee, backed by precision engineering and the use of high- quality materials. A full one-year's warranty covers defects in manufacturing and materials, excluding wear and tear.