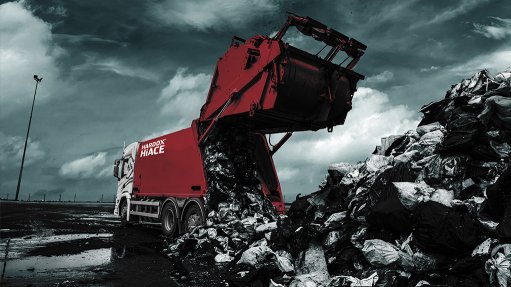 The Hardox® wear plate product range of abrasion-resistant steel has a worldwide reputation for being both hard and tough, fighting wear in the most severe conditions. Hardox® HiAce, the latest addition to the Hardox® wear plate range, is an ace at fighting both abrasive wear and corrosion.
It features the same excellent properties as Hardox® 450, with a Brinell hardness of 425 - 475 HBW and a minimum Charpy impact test value of 27 J at -20°C (20 ft-lb at -4°F).
Hardox® HiAce is a true wear fighter, especially in acidic corrosive environments that threaten to eat away at your equipment. This corrosion-resistant steel plate helps to meet the challenges of corrosive wear environments found in municipal and industrial waste management, waste-to-energy plants, and in mining and process industries. The recycling business poses particular challenges to steel. Municipal solid waste, often referred to simply as garbage, is one example of a material that creates a low pH acidic environment that accelerates wear in garbage truck bodies and refuse containers. Other conditions that have the same effect are when transporting wood chips and if chemicals such as sulfates and chlorides are present.
Hardox® HiAce has been developed to withstand these conditions. At low pH levels, the wear mechanism is different than in a more pH-neutral environment. The acidity oxidizes the steel's surface, making it more prone to wear even if the body or container is made with a hard material.
Apart from the additional wear resistance in acidic environments, Hardox® HiAce has the toughness it takes to perform as a structural material in garbage trucks, recycling containers, tipper and dump bodies and other heavy-duty equipment.
It is available in thicknesses of 4 mm to 25.4 mm.
Industries and applications that can potentially benefit from products made with Hardox® HiAce include:
Municipal and industrial waste management: garbage trucks, containers and wear surfaces exposed to acid in waste and recycling facilities, as well as equipment operating in landfills
Recycling
Waste-to-energy plants and biomass facilities
Paper and pulp mills
Mining and quarrying
Agricultural applications and forestry
Process industries
Hardox®HiAce has similar mechanical properties as Hardox® 450. It can be processed by the same kind of machinery used for other Hardox® grades.

Hardox® HiAce for more payload, less fuel and reduced CO2 emissions

The increased wear resistance in garbage trucks and other equipment allows for the use of thinner plate without jeopardising the service life. Thinner steel plate means more payload when fully loaded. And when traveling empty, a lower-weight truck saves on fuel and reduces CO2 emissions.
For more information on Hardox® HiAce, contact SSAB South Africa (Pty) Ltd: