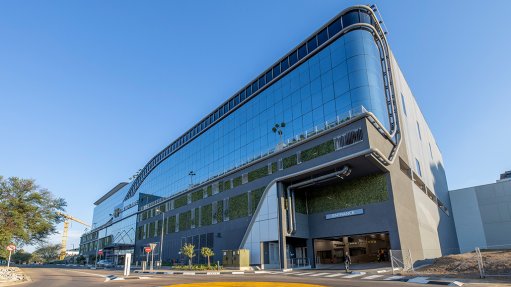 JSE-listed property management company Growthpoint Properties and Cintocare, the hospital, have opened an 11 000 m2 specialised surgical hospital development in Tshwane, which is expected to become the first five-star rated green hospital in Africa, and only the fifth in the world with its specialised surgical mix and clinical business model.
The Cintocare Hospital is a tailor-made, high-performance clinical centre of excellence focused exclusively on head, neck, spinal and vascular surgery. Construction of the R470-million specialist surgical hospital began in July 2018 and, despite the Covid-19 lockdown, was completed on time at the end of 2020.
The hospital officially opened its doors on December 1.
The hospital is the culmination of the close collaboration between its operators, doctors, promoters, developers, owners and other stakeholders.
The property comprises seven levels – three levels dedicated to parking, one for the plant room and three clinical and consulting levels. The development partnership delivered the full suite of services for the 100-bed hospital. The facility also features 15 consulting rooms and five theatres, including one hybrid theatre, with the potential to increase this number to eight.
A hybrid theatre is different to a typical theatre in that it has a hybrid Cath lab in it, which Growthpoint Healthcare fund manager Dr Linda Sigaba explains is normally used by vascular surgeons.
This means that should they require assistance from a neurosurgeon, for example, the theatre has all the required medical equipment to assist both medical professionals.
The number of hospital beds can also be increased to 160, if need be.
Cintocare's doctor, patient, staff, and visitor experience was a focal point for the design strategy to enable the optimal delivery of specialised service. Medical professionals are supported by state-of-the-art equipment and technology and disciplines offered include neuro and spinal surgeons; maxillofacial and oral surgeons; ear, nose and throat surgeons; plastic and reconstructive surgeons; and a vascular surgeon, as well as specialist physicians, paediatricians and intensivist.
The hospital's services include radiology, pathology, physiotherapy, audiology and speech and swallowing therapy.
Growthpoint has extensive experience in delivering bespoke commercial developments but developing this unique world-leading specialised healthcare facility was a unique project, Growthpoint CEO Estienne de Klerk said on April 6.
The hospital is the first of its kind in many aspects and is Africa's first certified green hospital as it incorporates numerous sustainable design and management features, which earned it a 5-Star Green Star Custom Healthcare design certification from the Green Building Council South Africa (GBCSA).
Healthcare facilities with green design have been found to deliver 15% faster recovery rates, a 22% reduction in need for pain medication, an 11% reduction in secondary infections and an 8.5% reduction in hospital stays, De Klerk noted during a virtual media briefing, adding that Cintocare is also South Africa's first hospital to generate its own oxygen on demand using an installed pressure swing adsorption (PSA) plant.
Further, on March 31, 2021, Growthpoint entered into a sale of letting enterprise agreement with Growthpoint Healthcare, to dispose of the Cintocare hospital to Growthpoint Healthcare as a going concern for R515.1-million.
Growthpoint Healthcare invests exclusively in and manages healthcare property assets in South Africa, including hospitals, clinics, biotechnology facilities and laboratories.
Growthpoint holds 61.8% of the Class A shares in Growthpoint Healthcare, while the remaining Class A shares are owned by a number of investment holders including institutional investors.