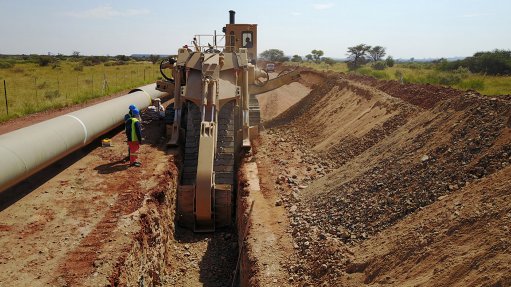 GOING GLOCAL Tesmec seeks to expand local presence in the most strategic areas of the world
Technologies design, production and marketing company Tesmec Group is constantly improving, adapting and evolving its machine concepts. Owing to its pursuit of a 'glocal' growth strategy, this means that Tesmec is global, but at the same time they have a local presence in strategic areas of the world.
This is to enable the company to reach out, and identify and meet market needs in the best way possible, says Tesmec sales and marketing Africa specialist Ashley Gerstner.
Tesmec believes that new technologies can fill the infrastructural gaps that exist between countries, as these will improve efficiency and meet the needs for future generations.
Gerstner further mentions that research on industrial products pushes the company to be more innovative in its components, mechanisms and electronics to improve the performance of its products.
Tesmec believes that attention to the machine or equipment does not stop at the product, but continues throughout its life cycle, through on-site inspections, regular reporting and continuous monitoring by company technicians.
Gerstner points out that Tesmec machines are equipped with smart, innovative electronics and components such as its Re.M remote monitoring system. It provides on-demand retrieval of operating, maintenance and troubleshooting information to help improve each machine's bottom-line performance.
Gerstner further explains that Tesmec machines are also fitted with the new electronic TrenchTronic control system with touch screen and a completely new human-machine interface. This has been developed with the main purpose of improving ease of use of Tesmec machines, increasing productivity and making it less dependent on operator skills.
Projects
Two of the company's most notable successes in South Africa involve its trenching machines.
Four of Tesmec's 1 475 Trenchers were successfully used for State-owned Transnet's new multi-product pipeline, to excavate pipeline trenches for the 500 km trunk line which ran from Durban to Gauteng.
Tesmec's trenching machines were also used for the Gamagara water project where a 1 675 Tesmec Trencher successfully excavated 50 km of pipeline trenches. Phase I of this project is an 85 km pipeline that stretches from Roscoe to Black Rock in Kathu, in the Northern Cape.
On completion, beneficiaries of Phase I will include fourteen livestock farms, twelve mines, solar parks and the communities of Kathu, Olifantshoek and Hotazel. The maximum capacity of the current water scheme is 2 500 m3/h and the new scheme will be able to supply a peak demand of 5 200 m3/h, including future water supply to Botswana.
The pipeline system is being upgraded by replacing the existing pipelines with a larger-diameter pipeline. The original scheme was built more than 50 years ago and has exceeded its life span.
Gerstner adds that its machines were chosen as the best solution for these projects because its all-soil and very hard rock excavation expertise makes it possible to apply its trenching technology advantages to any terrain.
"Unlike what happens with traditional digging technologies such as drill and blast, excavators and hydraulic breakers, Tesmec machines guarantee safe, clean and efficient operation in every environment, from the toughest long-distance pipeline to the most critical urban context."
Tesmec president and CEO Ambrogio Caccia Dominioni notes that, "Tesmec is an innovative company, motivated by the desire to grow. Tesmec looks at technological challenges presented by the markets more as opportunities than as threats. Innovation is the key factor that has allowed Tesmec to become what it is today. Our mission is to provide solutions to drive growth and modernisation of every country. We are proud to be leaders in the supply of integrated solutions for energy and data transport and construction."