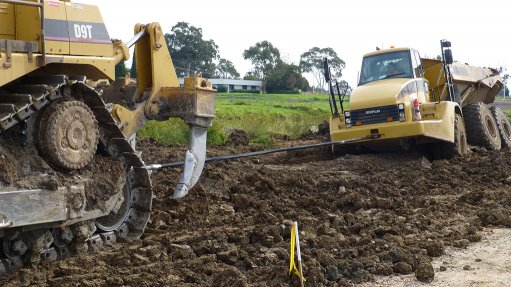 AS STRONG AS WIRE ROPE A fibre rope being used to recover a dump truck from mud
The export market for locally made fibre ropes has proven highly beneficial for Cape Town-based ropes manufacturer Southern Ropes, says MD Chris King.
The company manufactures a variety of fibre ropes to cater for various industries, including commercial and recreational marine use, industrial and mining applications, safety and access applications, and agricultural applications.
The company has been focusing on developing its range of ultrahigh-molecular-weight polyethylene (UHMWPE) fibre ropes since 1997. Therefore, Southern Ropes ordered a specialised high-capacity German-manufactured rope-making machine to expand the Cape Town branch's capacity to manufacture longer ropes that are suited to the international market, King tells Engineering News.
"The new machine gives us the capacity to manufacture ropes of longer lengths without any joins in them. It will also enable us to manufacture ropes of larger diameter, of up to 120 mm," he says, adding that the machine will be fully commissioned before month-end. King explains that the lengths of rope the company can manufacture using the new machine are dependent on the size of the reel. "For example, 5 000 m of 20 mm rope will not be a problem for us to manufacture," he says.
Before the acquisition of the new machine, Southern Ropes has been operating with existing rope-making machinery at full capacity to meet demand.
With this investment in new machinery, Southern Ropes is expecting significant growth in its export market, which comprises about half of the company's business. Most of the company's exported products include its high-quality, sophisticated and more expensive range of ropes.
In terms of foreign markets, Southern Ropes has been focusing on Europe for several years. Most of the exported products are destined for the UK, a smaller portion for Germany and the remainder for various other European countries.
Meanwhile, the emerging ropes market in Australia is proving highly lucrative for Southern Ropes, which was presented an opportunity after major Australia-based ropes and cordage company Donaghys closed its ropes and cordage division. Donaghys also caters to other industries, including agriculture.
Donaghys had rope-manufacturing plants in Melbourne, Australia, and Christchurch, New Zealand. Southern Ropes bought a portion of the equipment used at both of these plants to manufacture ropes for Australia and Melbourne. With its acquisition of the rope-making equipment in those regions, Southern Ropes manufactures fibre ropes according to the standards adhered to by these two regions, with the ropes still being sold in those regions through Donaghys.
King says this prompted Southern Ropes to fast-track its local and overseas production, as demand was greater than expected.
He also foresees further growth for the company in Australia and New Zealand in 2016, but notes that substantial growth will occur only once the global mining industry, currently experiencing a downturn, becomes more profitable.
Local Markets
Southern Ropes' local markets include the commercial fishing market, which has proved to be a steady client base.
King adds that the local industrial and mining markets are also significant, with various products in these ranges overlapping in terms of applicability and use.
Southern Ropes also caters to the offshore marine and harbour services market, for which it manu- factures ropes for offshore oil rigs, deep-sea ships and tow lines for tug boats and sea rescue services.
A smaller but significant market is the leisure boating market, which comprises sailing and racing yachts and catamarans. They require light, strong ropes that can be easily handled with bare hands in a marine environment.
Southern Ropes supplies various leisure marine ropes to several local boat builders, most of which have a global reputation; this, therefore, signifies the importance of this market.
Bright Future for Fibre Ropes
King highlights the light weight of fibre ropes, as they are easily portable and storable, their resistance to corrosion and their ability to easily coil, fold and stretch as some of the advantages of the product.
Some fibre ropes also have the ability to float, while others offer ease of joining using simplified splicing techniques.
King notes the historic boom in general-purpose nylon ropes when they entered the global market in the mid-1900s. He says the only alternative at that time was natural-fibre ropes. Nylon ropes entered the global market at high prices because of the then complicated manufacturing process.
"The price of nylon ropes has decreased significantly since their boom and the same will happen with UHMWPE ropes once manu- facturing methods have reached their proper levels, along with the associated drop in the price of the technology required to make UHMWPE ropes."
King points out that fibre ropes are significantly safer to use, compared with wire ropes, as the consequences could be disastrous if they snap while under load. "Consequences of wire rope failure have been fatal in several instances when they broke," he says, concluding that fibre ropes are less lethal and destructive when they break.