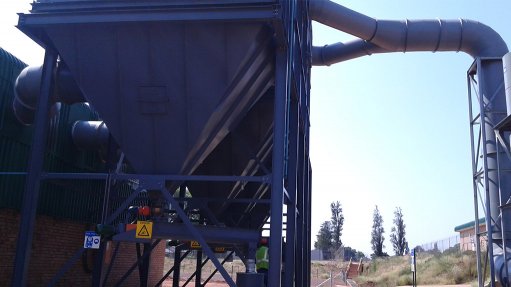 DUST EXTRACTION MIP Process Technologies produces dust and fume extraction equipment capable of dealing with air pollution challenges
Global public health institution the World Health Organisation's 2015 statistics show that at least seven-million people a year worldwide die prematurely from air-pollution-related diseases, which makes dust extraction a growing market that antipollution companies need to take advantage of, says process equipment sales and manufacturing company MIP Process Technologies.
Company MD Philip Hoff tells Engineering News that pressure is mounting for South Africa's industrial arena to get in line with emissions reduction regulations. He says that, to meet this challenge, companies need to invest in research and development, "not only in terms of marketing but also to pass on valuable knowledge and work alongside customers to improve their clean-up programmes".
He adds that areas of industry that emit toxic gases need to put measures in place to improve working conditions and that MIP Process Technologies can help to mitigate air pollution challenges.
In collaboration with dust and fume extraction equipment supplier Alliance Dust Control Services, MIP Process Technologies supplies bag filters that feature a reverse-pulse design, comprising a series of cylindrical filter elements that are enclosed in a dustproof housing.
"Dust-laden air enters the housing and clean air is drawn through the filter cylinders using a fan. As dust particles accumulate on the filter elements, periodic cleaning is achieved by a momentary jet of compressed air through a specially designed venturi, which is mounted above each filter cylinder. "The compressed-air jet pumps secondary air to produce sufficient reverse flow to clean the filter cylinders," explains Hoff.
He further highlights the filter bags' energy efficiency as a significant cost-saving benefit, adding that the bags are pulsed only when a set pressure is reached, thereby saving on bag life, compressed air and power.
Meanwhile, Hoff says cyclones are sometimes used during pretreatment to remove larger particulates from flue gas, which increases the efficiencies of subsequent abatement processes. The range of cyclones can accommodate a variety of liner materials to ensure compatibility with the nature of the gas that needs to be treated and, for higher flow rates, multicyclones can be used.
He tells Engineering News that MIP Process Technologies has also developed a new scrubber to remove dust from processing environments in underground mining applications, with the first of these having been successfully commissioned last year.
Further, the company has developed a method to collect fumes during furnace tap-hole extraction.
MIP Process Technologies offers a complete range of water reticulation, dust extraction and process equipment, and considers itself a one-stop shop that meets all clients' needs.
The company has the scope and facility to offer complete projects, including the design, manufacture and installation of processing equipment, such as attrition scrubbers, thickeners and cyclones.
It also supplies a range of processing equipment, including clarifiers, the Chemineer range of agitators and mixers, linear screens, slurry samplers and a renowned range of thickeners.