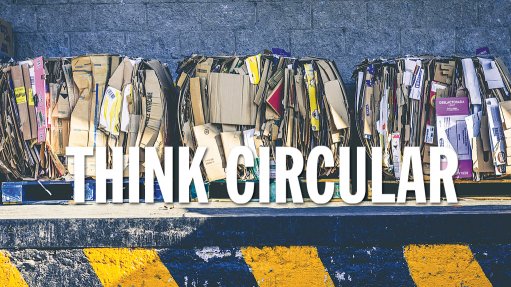 As the world moves from a state of crisis to an uneven recovery from the Covid-19 pandemic, there are growing calls for governments and business to use the recovery phase – described as a unique but narrow window of opportunity – to implement and accelerate the structural changes required for future social and environmental sustainability.
During a recent keynote address at a circular bioeconomy-focused virtual event, Prince Charles added his voice to these call, urging the prioritisation of and investment in nature as "the true engine" for a new economy, adding that a circular bioeconomy was required to "urgently restore the balance" that the human population has disrupted.
The Prince of Wales said a new way of thinking was required that would form the basis for a new economic paradigm that was circular, not linear, and which relied on healthy biodiversity and resilient ecosystems.
The circular transformation of biological resources into food, feed, energy and biomaterials within the ecological boundaries of the ecosystems was "absolutely key" to moving away from an "unsustainable fossil-based economy", he argued.
Accessing critical materials (defined by risk of supply shortages and impacts on the economy being higher than with most other raw materials) used in advanced technologies carried the further risk that these materials – such as copper and platinum-group metals (PGMs), among others – in many cases have limited potential for substitution and low recycling rates.
Circular Electronics
The amount of often copper-containing electronic waste (e-waste) that is produced a year looks set to grow from almost 50-million tonnes currently to 120-million tonnes by 2050.
Research by the global Circular Electronics Partnership (CEP) indicates that about 17.4% of e-waste is collected and recycled; this is worth about $57-billion yearly, and offers a unique opportunity for economic growth and resilience if handled correctly.
Extensive stakeholder collaboration is required to maximise this opportunity while creating the systemwide changes needed for true impact and sustainability, the CEP says.
The Waste from Electrical and Electronic Equipment (WEEE) Forum, which represents e-waste producer responsibility organisations globally, is continuing to grow its global partnership with the recent addition of new members from Colombia, South Africa, Spain and Lithuania.
With worldwide e-waste levels continuing to rise at about 3% a year and expected to reach more than 74-million tonnes in 2030, according to United Nations (UN) research, the WEEE says the bid to attract these organisations reflects the desire to spread best practice and engage with role-players worldwide. It is also indicative of the growing global movement's commitment to ensuring that e-waste is collected and handled in a way that is "not detrimental to people's health and the environment".
This current volume of yearly production is three times more valuable than the total output of the world's silver mines, says a report, 'A New Circular Vision for Electronics', that was published early this year by the World Economic Forum (WEF) in collaboration with the UN E-Waste Coalition.
The report states that, with only 20% of electronics and plastics formally recycled each year, this health and environmental issue also represents a unique $62-billion economic opportunity.
In this regard, the Nigerian government, the Global Environment Facility and UN Environment have joined forces with electronics manufacturers Dell, HP, Microsoft and Philips to launch a $15-million investment to create a formal e-waste recycling industry in Nigeria.
Given that 100 000 people are estimated to be informally working in the e-waste sector in Nigeria alone, the investment will unlock economic growth, and provide safe and decent employment for workers in the country.
Copper Recycling
The demand for copper – which is primarily driven by the transition to low-carbon energy and technologies, electrification and electric vehicles (EVs) – is forecast to double to an average of 60-million tonnes a year, minerals recycler Glencore Recycling global commercial lead Kunal Sinha said during a Fastmarkets copper seminar last month.
With the mining projects pipeline currently at a supercycle low, owing to a lack of, or delay in, investment in new mines, Sinha questioned whether the mining industry – from a supply perspective – would be able to keep up with the demand.
Sinha argued that copper recycling and the circular economy would play an increasingly bigger role over the coming years, as the circular economy could meet the estimated 40% supply gap left by the mining industry.
From an emissions perspective, Sinha highlighted the drive to address the net-zero pledge and target by 2050, adding that, while there was a lot of research available, "you can't get to net zero by 2050 simply by resource efficiency and low-carbon energy".
Several countries have introduced targets to achieve net-zero emissions by 2050. These targets are included in the Sustainable Development Scenario, but attention is increasingly turning towards what it would mean for the energy sector to reach net-zero emissions by 2050.
Sinha explained that, to a great extent, the pledge's success would hinge on the circular economy, with copper supply playing an integral role in meeting the pledge.
Sinha, however, lamented the recycling of materials such as copper, which is often still referred to as scrap or waste, noting that this deterred potential recyclers and investors from exploring the circular economy industry.
He suggested that one should rather refer to these materials as "post-consumer resource materials", which would help encourage more investment, although regulatory frameworks and policies would also continue to play a bigger role.
PGMs & Other Metals
PGMs, meanwhile, play a vital role in low- carbon technologies that will also allow for reaching net-zero targets globally.
PGMs are at the heart of electrolyser technologies for producing green hydrogen and are a crucial component of fuel cells that facilitate the conversion of hydrogen into electrical energy without producing harmful emissions.
To this end, a strategic partnership between chemicals manufacturer Johnson Matthey (JM) and diversified miner Sibanye-Stillwater, announced on March 19, will focus on developing a number of opportunities to drive technological innovation and ensure a more sustainable supply chain for customers.
JM and Sibanye-Stillwater will, besides other aspects, combine their extensive expertise in metals recycling to improve current technologies, particularly the recycling of materials that are "difficult to recover".
A new way of meeting the growing demand for minerals critical to EVs, electronics and battery manufacturers could become commercially available within this decade, according to a report published by the WEF in November.
The report explains how significant public and private investment has been used to explore ways of extracting cobalt, nickel, lithium and other minerals from the seabed. However, more than 90 nongovernmental organisations have voiced concern about the dangers of such commercial extraction.
Although some avenues exist, companies that extract these materials previously did not have a forum to learn about and discuss deep-sea mining. To create the environment required for this industry to come together, discuss and engage on this complex issue, the WEF launched its Deep-Sea Minerals Dialogue.
WEF MD Dominic Waughray said in a media statement, released in November, that "deep-sea mining is a cross-cutting topic that could affect progress on climate action, as well as the preservation of biodiversity, and is connected with the transition to a circular economy".
He averred that the coming years would be "critical", as regulatory, technology and investment decisions were being made, noting that these decisions could determine the environmental and social impact of deep-sea minerals.
Although these minerals may not enter the supply chain for a few years, Waughray cited cobalt supply from the Democratic Republic of Congo and palm oil supply from Indonesia as examples showing that failing to act early "can result in costly efforts to clean up the supply chain and reputational impact afterwards".
War on Plastic Waste
The South African Plastics Recycling Survey for 2019, authored by Plastics SA, outlines the state of the country's plastics recycling industry.
The survey, published in August 2020, says 503 600 t of plastic waste was collected for recycling, more than half of which consisted of packaging. Of this amount, 352 500 t consisted of plastics that had been converted back into raw materials to manufacture other products in 2019.
Although these statistics represent progress, the report notes that South Africa produced just more than 1.5-million tons of new plastic products in the same period.
The largest quantity (70.4%) of recyclables came from landfill and other post-consumer sources. Plastics recycling also eliminated an estimated 244 300 t of carbon dioxide (CO2) emissions in 2019, the equivalent emissions of 51 000 cars in a year.
Meanwhile, 288 recycling operations were identified in South Africa in 2019, of which 52% were based in Gauteng, recycling 60% of the tonnages during the year.
Recycled tonnages increased steadily in Gauteng in the past three years, with most of the end-markets situated in the province.
Eleven per cent of the recyclers are based in the Western Cape and recycled 14% of the total tonnages in 2019.
The survey also notes that recycling rates will increase as brand owners and their manufacturers commit to higher levels of recycled content in their products.
Through this subsector of the circular economy, more than R2-billion was injected into the informal sector through the buying of recyclable plastics waste in 2019, creating 58 750 jobs, which included waste pickers and employees of smaller entrepreneurial collectors.
"As integral as plastic is to modern life, plastic waste remains a significant global problem. The survey provides important insight into the growth and development of the plastics recycling industry and highlights plastics recycling activity in our economy. It also allows us to promote the value of more sustainable business practices and consumer choices," says South African Plastics Recycling Organisation chairperson Johann Conradie.
While he agrees that "there is no single solution to end the war against plastic waste and pollution", Conradie says recycling is "one of the most important actions available" to reduce petrochemicals use, CO2 emissions and the quantity of the waste being disposed of.