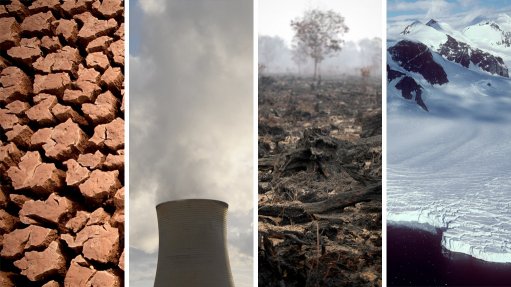 Not-for-profit environmental organisation Greenpeace has called on African countries to lead the development of new climate databases and models rather than depend on other countries as future average temperatures on the continent are projected to increase at a rate faster than the global average in all warming scenarios.
A report published by Greenpeace Africa and the Greenpeace Science Unit titled 'The Weather Gods Unmasked' reveals how severely climate change unfolds across the continent.
It also explores the relationship between extreme weather events and climate change in Africa and summarises the scientific data on how the climate crisis is spiralling with irregular extreme heatwaves, floods, droughts and cyclones at a scale previously unknown.
If high carbon emissions continue at the current rate, the annual temperature increase for most of the continent is projected to exceed 2 ℃ or to fall within the range of 3 ℃ to 6 ℃ by the end of the twenty-first century.
This is between two to four times more than the rise allowed by the Paris Agreement.
The report warns that climate issues can often be disproportionately felt in the poorest communities.
Climate scientist, founder of Black Women in Science and co-author of the report Ndoni Mcunu says there needs to be better incorporation of indigenous knowledge in scientific evidence on extreme weather events in Africa.
"This will ensure better communication, planning and future projects of events. Access to information needs to be provided at a community level," says Mcunu.
Among the key findings in the report is the future average temperatures in Africa are projected to increase at a rate faster than the global average in all warming scenarios.
According to the report, rising temperatures could lead to deaths, displacement, climate-related conflict, irregular rainfall, drinking water shortages, obstruction of agricultural production and accelerated extinction of endemic African species.
Southern, East and North Africa could also see an increase in the frequency, intensity, and duration of extreme heat events.
Greenpeace Africa interim programme director Melita Steele says African leaders must declare a climate emergency.
"Science shows there is very little that is natural in the disasters striking our continent. A human-made crisis requires a human-made solution. Africa is the cradle of humanity and it shall be the cradle of climate action for our future. Health, safety, peace and justice will not be achieved only through prayers and bags of rice and maize in the aftermath of a disaster," she said.
Ugandan climate activist Vanessa Nakate warned that climate change is disastrous for agriculture and said livelihoods are in danger with everything being lost to floods, droughts and heatwaves.
She pleaded with African leaders to listen to science and to face the climate emergency.
"We must put an end to food and water insecurity, to the violence, to the gender inequality that is being caused by climate change," she stressed.