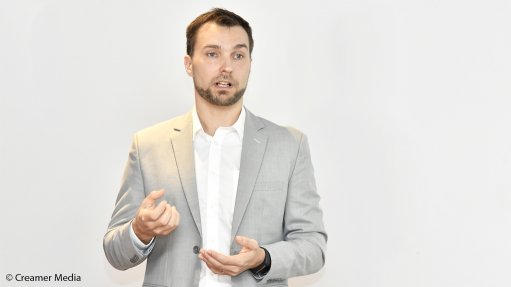 Greenpeace global air pollution unit lead analyst Lauri Myllyvirta
Photo by: Creamer Media's Dylan Slater
Nonprofit organisation Greenpeace Africa on Tuesday reaffirmed its opposition to State-owned Eskom's application for further postponements and/or suspensions from air quality legislation.
The organisation explained that, in the interests of realising the Constitutional right to a healthy environment, no further postponements should be given to the cash-strapped utility or any other entity, when cleaner and safer options are available.
The organisation's stance follows Eskom's application for wide-ranging postponements and suspensions from South Africa's Minimum Emission Standards (MES) that would allow it to operate its existing fleet without rudimentary controls for pollutants emitted from coal-fired power plants, namely sulphur dioxide (SO2), nitrogen oxide (NOX) and mercury.
In 2018, Eskom again applied for postponements for NOX emissions for 16 of its 19 power plants, including 14 coal-fired and two liquid fuel power plants, and suspensions of SO2 emissions standards for the majority of the power plants.
A verdict on Eskom's application is expected by the end of this year.
Discussed in its updated global analysis of nitrogen dioxide (NO2) and SO2 pollution, based on a full year's satellite data, Greenpeace has stated that Mpumalanga, in South Africa, is the largest concentration of NO2 emissions in Africa.
The report states that the reports state that the coal power and industrial cluster in Mpumalanga is the world's worst hotspot for NO2 coming from power plants.
According to Greenpeace senior climate and energy campaign manager Melita Steele, the Mpumalanga region is now ranked fourth in the world when looking at all sources of NO2. The province is also ranked third in the world for SO2 emissions.
"We are in the midst of an air pollution crisis within an electricity crisis in South Africa and can no longer afford to be in denial. Coal is killing thousands of people prematurely, and this detailed analysis of satellite data confirms that Mpumalanga is the world's worst hotspot for power plant SO2 and NO2 emissions," Steele lamented, adding that Mpumalanga has "the most polluting cluster of coal-fired power stations in the world".
Compared with Greenpeace's first Global NO2 Air Pollution hotspot map, which was published in October 2018, the updated analysis, based on 12 months of data instead of only three months, moves Mpumalanga from the first to the fourth spot in the world after Tehran and Dubai – two Middle Eastern locations with very high oil consumption in power plants, industries and transport – and Seoul in South Korea.
However, according to the full-year data, Mpumalanga still remains the highest-emitting coal power plant hotspot in the world, on par with the Sonbhadra coal mining and power plant cluster in India.
"The emission control performance of the coal-fired boilers in South Africa is dramatically worse than in other countries. Eskom's coal-fired power plants are allowed to emit more than 20 times as much SO2 and 15 times as much NOx as Chinese and European coal-fired plants because of weak emission standards," Greenpeace global air pollution unit lead analyst Lauri Myllyvirta said.
According to Myllyvirta, China ranks comparably low in the Global Air Pollution map because, over the five-year period from 2012 to 2017, the country achieved dramatic reductions in power plant and industrial emissions and equally dramatic improvements in air quality.
However, even though South Africa is now in the midst of another electricity crisis, Greenpeace climate and energy campaigner Nhlanhla Sibisi remains doubtful that the country will be able to achieve similar objectives to those of China.
The first step towards achieving this, he explained, would require the science to be connected to real life experiences, which is said to "already be difficult in itself".
Additionally, he added that the South African government would need to be open about the health impacts of continuing with coal-fired power generation and that, in order to consider switching to renewable energy as an alternative, the government would need to consider the economic sustainability, as well as the long-term health impacts.
Critical to this, Sibisi highlighted, is finding the right policies to change its direction, which would be determined by the Department of Environmental Affairs, which is "not being an advocate for health amid the air pollution crisis".