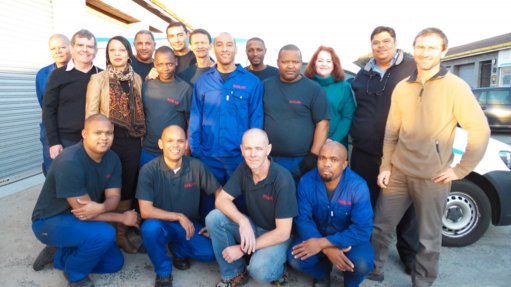 RENLAW TEAM Renlaw founder Walter Brunner says the company's hires staff because of their potential, not their skill
Cape Town-based cutting tools manufacturer Renlaw in August announced a yearly growth increase of 35%, owing to the reinvestment of funds granted under the Department of Trade and Industry's (DTI's) Manufacturing Competiveness Enhancement Programme (MCEP), emphasising the potential for expansion in what is known to be an import-dominated sector.
"In 2013, the DTI approved a grant to us which was pumped, along with our own funds, into the development of a highly specialised computer numerically controlled knife-processing machine, the S1G1," says Renlaw director Mikko Brunner, who also designed the S1G1. "This machine has given us an enormous advantage over our competitors locally and abroad."
Renlaw is now able to manufacture a range of food processing and packaging knives, which were previously only available through import. This technology, along with the superior steels that Renlaw uses, which are imported from Germany, means that the company can manufacture top-quality blades at competitive prices.
Renlaw Founder Walter Brunner says it greatly values its staff and invests a lot of time in training and seeing its employees grow from entry-level positions to being part of senior management.
"We have an extremely loyal and competent staff contingent and we hire people for their potential, not their skills," says Brunner.
Renlaw showed a 40% increase in their staff complement and production last year, which is further testament to Renlaw's ongoing success.
The MCEP is a key action programme of the Industrial Policy Action Plan, which is designed to drive growth and promote competitiveness in the manufacturing sector. It includes incentives designed for established manufacturers with the aim of promoting competitiveness and retaining jobs.
The DTI implemented the programme in June 2012 and, in a statement released on April 2014, DTI media liaison Sidwell Medupe boasted that, by the end of March 2014, 524 applications had been approved and more than R4-billion had been committed to the programme.

Founded in 1985 by Brunner, a Swiss cutting-tool expert, Renlaw considers itself an industry leader in the manufacture and servicing of industrial cutting tools.
Its team has over 160 years of combined experience and the well-trained and qualified members follow a progressive management strategy.
Renlaw attributes the substantial growth of its customer base to the team's dedication to producing value-adding products that strive to exceed customer expectations.
In addition to supplying the food-processing and packaging industries, Renlaw also caters to the automotive, medical and pharmaceuticals and print media sectors, using only biodegradable cleaning products in its factory.