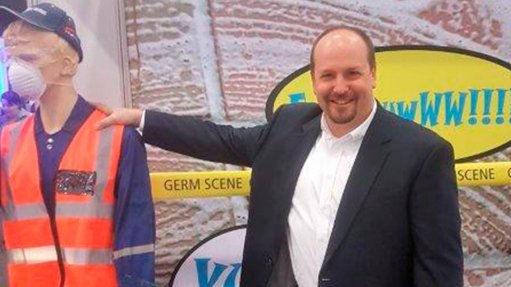 Goscor Cleaning Equipment (GCE) launched the Kaivac No-Touch Cleaning® system at the CleantexPulire Trade Show at the Gallagher Convention Centre in Midrand, Johannesburg, from 12 to 14 June.
The Kaivac No-Touch Cleaning® system is described as a cleaning concept that aims to replace the mop-and-bucket system, Peter Esterhuizen, GCE National Sales Manager, comments. Kaivac International Business Manager Marc Ferguson was on the stand to talk to customers and present the new technology. In addition, GCE General Manager Greg Venter and the Johannesburg sales team manned the stand.
Esterhuizen says that CleantexPulire was selected as the launch platform as it attracted the perfect target market for Kaivac, which is national cleaning contractors and their clientele. This was the 11th edition of the international trade show, which targets all sectors of the professional cleaning and hygiene industry.
In addition, GCE also displayed its leading Tennant brand of cleaning equipment, featuring the latest advances and add-ons for this well-respected international brand. "Tennant, of course, is our primary brand, and the aim here was just to reassure the market how it continues to dominate and grow," Esterhuizen explains.
The introduction of Kaivac into the local market is part of GCE's underlying philosophy of providing the latest technology to ensure its customers benefit from the lowest total cost of ownership at the end of the day. Ferguson adds that this makes the company's products a natural fit with GCE's existing portfolio. "Clearly GCE is an expert in the industrial and commercial cleaning environment. Our products are really complementary," Ferguson stresses. The range consists of the Kaivac 2150, designed for large-capacity cleaning applications such as high schools, universities, airports, convention centres, factories, warehouses, stadia, and even large hospitals.
The Kaivac 1250 is designed specifically for smaller facilities, while the Kaivac 1750 combines high capacity and compact size for added value. It includes innovative features such as a removable 'black box' engine compartment for rapid repair and exchange.
The range combines automatic chemical metering and injection with an indoor pressure washer and a powerful wet vacuum. "It is a fully integrated cleaning system that allows workers to hygienically clean contaminated surfaces without any danger to their own health and safety. The end result is not only improved cleaning, but also reduced labour, chemical, and equipment costs, and much higher productivity," Ferguson explains.
GCE is also introducing Kaivac's OmniFlex range to the local market. This includes the OmniFlex™ SUV™ for hard-surface floor cleaning needs, the OmniFlex Dispense-and-Vac system for the heaviest soil and grease conditions, and the OmniFlex AutoVac™ automated floor-cleaning machine. OmniFlex is a modular system with a 'plug-and-play' capability, which means end users can add and subtract accessories, ultimately creating the best platform possible for their specific cleaning needs.