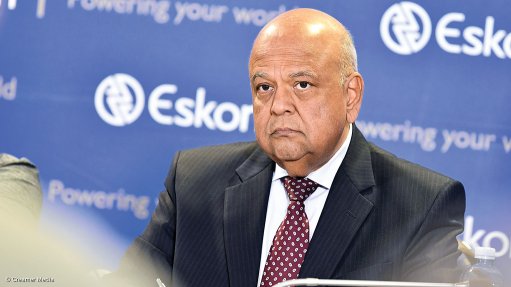 Public Enterprises Minister Pravin Gordhan
Photo by: Creamer Media Chief Photographer Donna Slater
A day after Eskom confirmed incidents of sabotage at its Tutuka power station, Public Enterprises Minister Pravin Gordhan alleged that another incident of sabotage had taken place at the Hendrina power station.
The Hendrina incident raises to six the number of incidents of suspected sabotage that have been reported to the South African Police Service since March 2021.
Addressing lawmakers on the occasion of his department's Budget Vote, Gordhan said the Hendrina incident involved the theft of flexible copper bars next to the generator of a unit that was due to be returned to service.
The theft, which could only have been perpetrated by people "within the power station" itself, prevented the unit from being synchronised to the network and, thus, contributed to Eskom having to continue with the implementation of load-shedding.
"These are what engineers call single points of failure," he said.
The incident follows confirmation by Eskom that two recent incidents at the Tutuka power station were being treated as acts of sabotage.
A cable was severed at Tutuka Unit 5, delaying the unit's return to service by three days, and once located and repaired, it was discovered that the control air pipe supplying the turbine systems had been cut with a power tool causing a drop in the control air pressure and further delaying the unit's return to service.
Eskom considered the incidents to be deliberate acts of sabotage by someone who had access to the site where only employees were allowed and had, thus, laid criminal charges with the South African Police Service.
In November, Eskom announced that the collapse of a distribution-line tower providing power to the coal conveyor system at the Lethabo power station, in the Free State, was a "deliberate act of sabotage".
The sabotage occurred at about 18:00 on Wednesday November 17 and was implemented in such a way as to ensure that the tower collapsed onto a second distribution line, providing double redundancy to the conveyor system.
Eskom is also investigating an incident at the Duvha power station.
Gordhan said that all corruption and disruption, whether from within Eskom, or from "counter-revolutionary quarters or criminals outside" the utility had to be combatted.
"Amongst other revelations that have occurred over the past few days – the corruption with regard to the supply of oil and the cable that was cut at another power station – are all directly related to the load-shedding that we experience today, over and above other operational issues."
Meanwhile, Gordhan announced that Eskom was taking urgent steps to improve the performance of its generation division, where the energy availability factor of the fleet had slumped to 58% year-to-date.
"Daily production and oversight meetings are held to hold power station management accountable for performance.
"An operations excellence initiative is also in place to identify the major causes of underperformance and to make improvements.
"At selected power stations war rooms will be set up to ensure that production challenges get tackled in a systematic way," he said.
Training and skills development were also being prioritised, given that "a lack of engineering and technical skills and experience in Eskom remains a significant challenge".
"A skills mentoring programme, using highly experienced power station managers, has been launched.
"This team will be deployed to power stations where load losses are particularly severe."