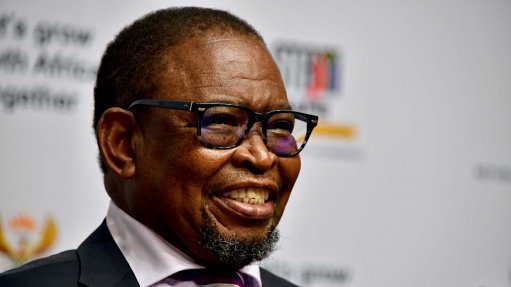 Finance Minister Enoch Godongwana
Finance Minister Enoch Godongwana reports that work is under way with the private sector to unblock the remaining obstacles to investment of about R54-billion in embedded generation projects.
Speaking during a presentation of Operation Vulindlela's first quarter progress report, Godongwana said he was aware of frustrations over the slow pace of the structural reforms being championed under the initiative, including those designed to address the electricity crisis.
However, he said that the majority of the 26 high-priority reforms had either been completed or were "progressing well", with seven experiencing implementation delays or critical challenges.
The progress update lists the emergency procurement of 2 000 MW of new generation capacity, as well as the initiative to improve the energy availability factor of the Eskom fleet to 70% as facing "critical challenges in implementation".
However, the progress dashboard marks as "completed" the reform raising the licencing threshold for embedded generation from 1 MW to 100 MW.
The Presidency's project management office head Rudi Dicks said that a distinction needed to be made between the actual implementation of the 100 MW reform, which was unveiled by President Cyril Ramaphosa and Mineral Resources and Energy Minister Gwede Mantashe in June last year, and the "follow-through" required to ensure implementation.
He said the announcement of the reform was "an important step" in itself as it set in motion a process of ensuring that miners and other energy intensive businesses reduced demand on the national grid by being allowed to develop their own generation.
"When we look at a reform there is a particular objective … but underneath that there may be a number of other areas that constrain us in getting to the point of greater levels of investment, economic growth and employment," Dicks explained.
In the case of the 100 MW reform, the raising of the licensing threshold had unlocked a "robust investment pipeline" of 58 projects, with a combined energy generating potential of 4 547 MW.
However, several obstacles remained in ensuring these were made "shovel ready", Dicks said.
A joint task team, involving government departments and agencies, the Minerals Council South Africa and the Energy Intensive Users Group was, thus, meeting weekly to track progress, resolve obstacles at an individual project level, as well as to address remaining constraints at a systemic level.
Dicks reported that the task team is working to address the following issues:
shortening the timeframes for environmental impact assessments and water-use licenses through the designation of embedded generation projects as Strategic Infrastructure Projects;
creating dedicated capacity in Eskom to process grid-connection applications more quickly;
putting in place wheeling frameworks and tariffs at the municipal level; and
simplifying the National Energy Regulator of South Africa's (Nersa's) registration process, including by addressing onerous requirements, such as the stipulation that a power purchase agreement be included at registration.
"All national departments, as well as Eskom, Nersa and the South African Local Government Association are cooperating actively to address these challenges," Dicks confirmed.
He said that, if cleared, projects could be connected between 2022 and 2024.
During an earlier briefing, Eskom CEO André de Ruyter reported that more than 30 potential investors had participated in briefings held at the Majuba and Tutuka power stations, where the utility is preparing to offer 20-year leases to those investors seeking to take advantage of the 100 MW reform.
He also announced that steps had been taken to improve the operation of its Grid Access Unit, which was responsible for issuing budget quotes for grid connection.
"We have taken heed of the comments received from investors and also parties wishing to feed electricity into the grid, that our grid access unit processes were slow and cumbersome and bureaucratic.
"And in consultation with our managing director of distribution we have now debottleneck that process and we would really like to see a far more expeditious and efficient process.
"If that is not the case, please tell us, and we will continue to strive to improve, because we do not want to be the stumbling block when it comes to adding new generation capacity to the grid – it is definitely not in Eskom's interests or in the interests of the country," De Ruyter said.