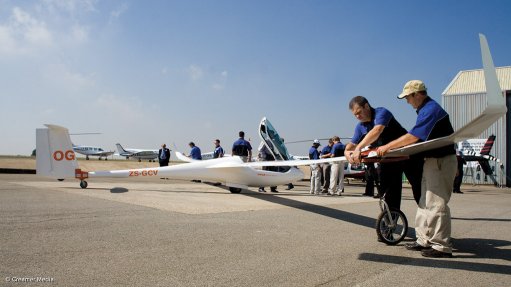 SHOWING OFF AERO South Africa will demonstrate everything from ultralights and gliders to business jets, helicopters, remotely piloted aircraft and electric aircraft as well as avionics and maintenance
Photo by: Duane Daws
The global general aviation show AERO Friedrichshafen – that has been successfully taking place at Lake Constance, in Germany, for over 40 years – is now set to expand to South Africa in July of this year.
From July 4 to 6, Messe Frankfurt South Africa will play host to the first AERO South Africa. The show will be held at the Wonderboom Airfield, in Pretoria. Messe Frankfurt South Africa enthuses that the expansion of the show is thanks to a close partnership between events management company Messe Friedrichshafen and trade fair organiser Messe Frankfurt.
The AERO South Africa show is poised to be Africa's largest general aviation trade show. The event will expose visitors to the latest advances, developments, products and services across the aviation industry.
The show will demonstrate the capabilities of everything from ultralights and gliders to business jets, helicopters, remotely piloted aircraft and electric aircraft as well as avionics and maintenance. Various companies will be afforded the opportunity to showcase their cutting-edge products and services. The event will also be attended by leading industry experts, enthusiasts, aviation companies, flight training schools, pilots, business jet owners and private aircraft owners.
The show hopes to establish four unique focus areas which will cater to industy and enthusiast needs. The focus areas will include: an operational focus such as test flight facilities that will also enable the fly-in of visitors, an exhibitor focus ensuring that exhibits are affordable and diverse and present as the ideal platform for manufacturers and suppliers to engage with the general aviation industry, and a visitor focus that will provide valuable information to guests and allow them an opportunity to view the latest products and innovations. Finally, the show will establish a content focus that will result in the establishment of workshops and experimental zones where visitors can keep up to date with industry developments while experiencing the latest innovations.
"The collaboration with Messe Frankfurt South Africa underscores the great significance that the AERO Friedrichshafen brand enjoys around the world. In addition, Messe Frankfurt is well positioned in South Africa to favourably entrench the AERO brand there," says Messe Friedrichshafen CEO Klaus Wellmann.
Messe Frankfurt head of AERO Roland Bosch states that Messe Friedrichshafen is the ideal partner, as its South African subsidiary, based in Johannesburg, possesses important local expertise thanks to its many events, as well as operational resources.
Messe Frankfurt South Africa CEO Konstantin von Vieregge adds that, "AERO South Africa perfectly rounds out the company's South African portfolio, as it already offers the largest automotive and boating trade shows in the country and, with this new aviation trade show, will thus cover all three elements. The company is looking forward to close cooperation with the Messe Friedrichshafen team."
With this move, AERO has underscored its strong international aspirations. The European event holds the top spot in the rankings of industry trade shows for general aviation.
"South Africa is a classic land of aviation: the number of aircraft is high, but owing to the current average age of this inventory, the need for contemporary aircraft and the corresponding modernisation of the infrastructure is great," says Bosch, assessing the market situation. Further, he adds that the Johannesburg and Pretoria regions are the most important hot spots in South Africa from a business perspective.
Messe Friedrichshafen further reveals that it anticipates that AERO's international presence will further expand in the next few years. Messe Friedrichshafen's China branch states that it is experiencing an encouraging uptick in global business activities.
The twenty-seveth AERO Friedrichshafen will again take place from April 10 to 13 this year, at Lake Constance, in Germany.