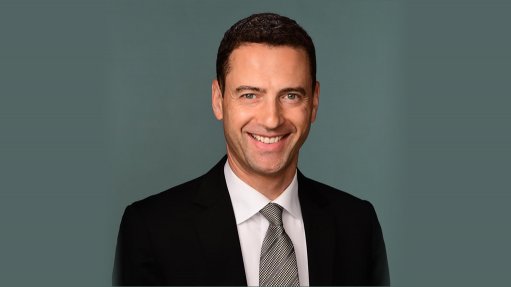 Glencore CEO Gary Nagle.
JOHANNESBURG (miningweekly.com) – Diversified mining and marketing company Glencore on Wednesday announced the settlement of most of its bribery and market manipulation investigations.
This follows almost four years of investigations and a serious environmental, social and governance (ESG) overhang over the group.
Total fines, forfeiture and disgorgement of $1.060-billion will be paid to US and Brazilian authorities and a further, yet to be determined penalty, from the UK Serious Fraud Office will be imposed on June 21, Glencore states in a release to Mining Weekly.
The total is not expected to be more than the $1.5-billion in provisions taken in the 2021 financial results of the London- and Johannesburg-listed company headed by CEO Gary Nagle.
There remains an ongoing investigation by the Swiss authorities for failure to have organisational measures in place to prevent corruption and a similar investigation ongoing from Dutch authorities.
These investigations are not included in the provision and remain outstanding. To settle with the US Department of Justice, the group has pleaded guilty to one count of conspiracy to violate the US Foreign Corrupt Practices Act related to past actions in overseas jurisdictions and pleaded guilty to one count of market manipulation in the US fuel oil markets. Glencore has also settled related civil violations of the Commodity Exchange Act and CFTC regulations. Finally, it has settled with Brazilian authorities for its part in the Petrobras "Operation Car Wash scandal".
An independent compliance monitor will be put in place for three years to assess Glencore's compliance with the agreements and to evaluate the effectiveness of its internal controls. Glencore has also released a presentation on its ethics and compliance programme outlining the changes to business practices that have now been in place since prior to the investigation, changes to management and its compliance and system procedures which have been increased significantly since 2016.
As a public company, and especially with new management at the CEO level and at each of the divisions, Glencore is of the view that it has already moved on from its past.
It states in the release that it will continue to operate in challenging jurisdictions, where risks from various legal regimes will remain, but adds that the lessons learnt from this, both from a monetary perspective but more so from the ESG implications the company has faced for the last few years, are not likely to be soon forgotten by management.
It points out that its trading business is now much more reliant on its own infrastructure and long-term partnerships for profitability than it was ten years ago. It thinks this, and a wider cultural shift around marketing's place within a public company, makes the risks around new fines or investigations low.
The total amount of $1.06-billion could mean that the final cost comes in less than $1.5-billion provisioned.
"We also think that the market's reaction to the provision at the full year results moderates the impact of today's news. This said, today should remove most lingering concerns and take off the table any worries around any material impact to the ongoing business/forced divestments and or any criminal sentences. Therefore we view today's release as a positive," the company states.