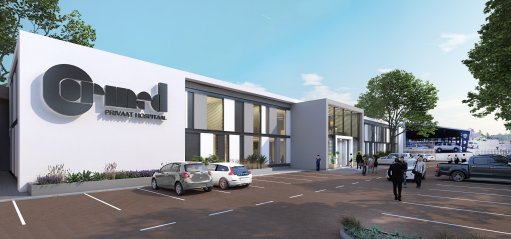 Cormed Private Hospital perspective
Commercial and medical property developer Giflo Medical is investing R130-million in expanding and upgrading two adjacent medical facilities – the Cormed private hospital and the Envision Centre for Sight – located within an established medical precinct in Vanderbijlpark, Gauteng.
Both serve the medical needs of the greater Vaal region and further afield.
Giflo is redeveloping and expanding the existing Cormed private hospital to accommodate an acute private hospital including specialised ophthalmology, critical care, orthopaedic laminar flow theatre and radiology services, which will enlarge the scope and intensity of procedures offered by the hospital.
Cormed also offers maternity, high care, general wards and an after-hours consultation service.
Cormed started as a small day hospital, but has grown significantly over 25 years in response to the increasing demand for its services in its community.
Identifying the need to expand and improve the facility yet again, the latest extension will almost double the size and capacity of the hospital by adding a further 2 000 m2 of space and growing it to a total 4 400 m2.
The revamp and expansion of Cormed takes the hospital to 62 beds and three theatres, including a laminar flow theatre. It is also receiving a full upgrade to all facilities and equipment.
Giflo gave Cormed a turnkey solution, applying its management experience to deliver the project at a fixed cost.
Construction at Cormed began in May and is scheduled for completion in December 2020. The hospital will remain fully operational during construction of the extension, with Giflo Medical taking a phased approach to the project.
Neighbouring the hospital is the Envision Centre for Sight, a medical facility for ophthalmology, which Giflo recently redeveloped.
The construction project began in January this year and was completed in six months.
The entire process was undertaken in close consultation with the centre's medical practitioners to accommodate the requirements of a fully operational medical facility, and ensure safety for all throughout. This was done successfully and with minimal disruption to Envision's day-to-day operations.
The extension to the centre's existing building added about 40% to its area, which now spans 830 m2 of gross lettable area. The changes have also boosted proficiency and effectively doubled its capacity.
The extra space enables it to offer additional specialist eye care services, which include a general and laser therapy practice. Envision Centre for Sight can now treat patients with a full spectrum of services.